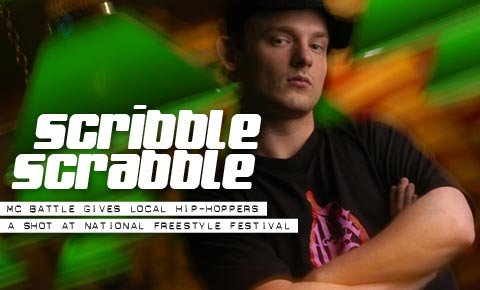 Question: What can Mac Lethal do that Eminem can't?
Answer: Win the Scribble Jam title.
"We went to Perkins afterwards and I felt like fuckin Tom Cruise," recalls Lethal, the Kansas City rapper who took the 2002 title at the venerated nationwide MC battle - at which Eminem placed second in 1997.
"It was bigger than life for me," he says. "It was like, 'Eminem can sell eight million records of every album he put out; and 50 Cent can make all this money and go on these successful tours; and Jay Z can launch a successful clothing line' but they can't win Scribble Jam."
The annual Cincinnati-based event is celebrating its 10th anniversary this year with a warm-up tour that stops June 6 at The Granada. Local rappers seeking to join the ranks of past Scribble Jam champs like Mac Lethal, Sage Francis and Eyedea will have a chance to win an all-expense paid trip to compete at Scribble Jam 2005 by participating in a battle at the end of the night.
"You can't really come and hope you win," advises Lethal, who will help judge the competition. "You have to come knowing that you're going to win or you're going to get eaten alive."
Past Event
Monday, June 6, 2005, 7 p.m.
Granada, 1020 Mass., Lawrence
All ages / $12 - $15
Diamond in the rough
Since its humble beginnings as a graffiti festival sponsored by Scribble Magazine, Scribble Jam has grown into an internationally attended celebration of hip-hop culture: B-boys and -girls, DJs, graff artists and MCs.
According to Lethal, the festival's biggest legacy so far is helping establishing a Midwest identity within the larger hip-hop scene.
"It kind of snubbed its nose at a lot of the aspects of hip-hop culture that I guess people felt were weak," he says. "Scribble Jam is really the elite form of hip-hop; the very intelligent, unpredictable, well-written, well-produced type of hip-hop."
Lethal's title and two runner-up trophies make him one of Scribble Jam's premier alumni. He parlayed that rep into a burgeoning career as a touring artist, hitting the road with Sage Francis and journeying to festivals as far away as Germany.
"The amount of promotion it gave me is unparalleled," he says. "It's almost like I cheated everybody else. I got (the equivalent of) five years of touring and promoting myself constantly."
These days, Lethal is trying to gracefully duck the Scribble Jam limelight. Though he expresses nothing but love for the festival and its organizers, he's trying to make a name for himself as a written artist rather than a battle rapper.
Album Mp3s

the Love Potion Collection
"I don't want to be the college guy at high school parties," he jokes. "This time I want to go and drink and sit there and cheer for some 19-year-old kid who's dicing everybody up."
Battle bods
The prestige that comes with performing at Scribble Jam is no secret to aspiring MCs like Kory Pedersen, a Manhattan-based rapper who will make the trip to Lawrence to compete in the prelim.
"(Scribble Jam is) the one that you're supposed to win to get respect," says Pedersen, who goes by the stage name of Dropjaw. "There's a lot of rappers out there that have CDs and are trying to push themselves as artists, but it's kind of easier to get respect and to get recognized if you're also known as a battle MC."
Though Lethal and fellow KC rapper Ubiquitous are the only area MCs who have competed in Cincinnati, Lawrence artists like Approach, Nezbeat and SoundsGood have also made the trip in recent years.
"There's always like a big carload of people that go to Scribble Jam," says Edwin Morales of Downplay Productions, the company that brought the tour to Lawrence. "For aspiring artists, it's a really good place to network : In my opinion, that's probably the No. 1 attraction."
This tour marks the first time that Scribble Jam has ventured out beyond Cincinnati - an attempt to widen its fan base and draw from a larger pool of talent.
"It's a pretty big experiment to see if the name really is strong enough that people will support it," Morales says. "I'm really glad that it's coming here because that tells me that they see Lawrence as a place that can."
Out from the underground
Scribble Jam's success has also come with the inevitable batch of naysayers, who deride the festival for supposedly catering to a narrow demographic of suburban white kids - a critique that Lethal disagrees with.
"It's completely diverse," he says. "I wouldn't even say that there were more white kids there than any other minority."
Due to the decidedly non-gangsta personas of Scribble Jam-affiliated artists like Atmosphere and Sage Francis, the festival may be an easy target for fans of harder-edged rap, Lethal theorizes.
According to Lawrence rapper Johnny Quest, Scribble Jam is a classic example of how "underground" hip-hop isn't so underground anymore.
"That's a market that some people cater to now," says Quest, who will compete in the Lawrence battle. "It's not a bad thing to be in that market, it just happens to be the entrance point for a lot of people these days."
Lately, that underground hip-hop market - led by labels like Rhymesayers, Def Jux and Anticon - has acquired a new slang: "backpacker" hip-hop. Whether or not that term could be construed as slanderous depends on one's point of view, Quest says.
"It's just how it was back in the day," he explains. "You had CDs to sell; you had weed to sell; you were a graffiti writer. Those are the reasons that people had backpacks back in the day - people used to jack 40 ounces; people used to go to the hardware store and rack up mad cans of paint."
"(The term) just became so commonplace that it almost became kind of like a joke, and then it became an insult at some point like a few years ago."
If Quest wins the Lawrence prelim, he'll have a chance to compete for $10,000 at the Scribble Jam MC battle in August.
"It's a crazy amount of loot, which really says a lot for Scribble Jam," he says. "There's definitely an awareness of the Lawrence and Kansas City scene out there. I'm just trying to make motherfuckers out there aware that I'm part of that as well."
More like this story on Lawrence.com