Dave Werdin-Kennicott's 2-year-old son calls it "Daddy's robot."
And although there's nothing too high-tech about the towering man guarding one entrance to South Park, he IS made of metal and he DOES look poised to snatch up anyone who wanders too close.
"He's kind of an enforcer," Werdin-Kennicott says of "Bigfoot," one of eight pieces chosen for this year's Outdoor Downtown Sculpture Exhibition.
The Lawrence artist based his 10-foot-tall, 500-pound, scrapped-together friend on minkisi, or African charms used to root out evil doers and create social harmony. So "Bigfoot" - with his jagged teeth, rusty bucket head and gigantic feet - is on your side, despite his menacing air.
"You don't want your protector to be the yellow happy face guy because he probably wouldn't do a good job," Werdin-Kennicott says. "You want him to have some elements of intimidation."
On the contrary, exhibition juror David Cateforis hopes passersby won't be afraid of the sculptures he chose for the show: Except for Werdin-Kennicott's "Bigfoot," the rest don't look like anything in particular.
Cateforis, a Kansas University art history professor, will try to dispel some of the mystery surrounding nonrepresentational art when he leads a tour of the sculptures on Saturday.
"I think the first thing that someone needs to do is let go of the idea that a work of art needs to represent something else in the world and instead allow the work of art to create it's own reality," he says.
"I think it adds interest to your walk through downtown to see a work of art that is unusual or surprising in some way - that draws you in, perhaps intrigues you or perplexes you or challenges you or even delights you."
Inspired by home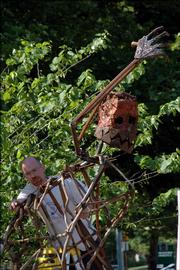 Jan Gaumnitz's "Prairie Focus" has the potential to delight hundreds of children from its perch in front of the Lawrence Arts Center, 940 N.H.
The playful iron form - painted a glossy chartreuse and perforated with circles and squares - could double as a beanbag toss. But the Lawrence artist had more subdued intentions when she completed it and installed it temporarily in the prairie surrounding her home west of Lawrence.
"The idea is that when you frame something - like with all the little circles - you really look at it a lot more closely than when you just see a whole big field of wild flowers, for example," says Gaumnitz, also known as a ceramist and painter.
Whatever the medium, though, Gaumnitz is inspired most by nature.
"I think it's probably because all my relatives are farmers," she says. "I think it's in my genes probably."
Carl Billingsley tapped his roots as well when creating "Tower Arch," a steel piece on the corner of Seventh and Massachusetts streets that looks exactly like it sounds. A wide, solid base tapers upward into a scaffold-like tower that eventually tips sideways and bends back down to the sidewalk.
"I grew up in Oklahoma, and anything that sticks up on the prairie is liable to get broken or bent by all the winds," says Billingsley, head of the sculpture program at East Carolina University in Greenville, N.C. "I thought, 'Well let's just go ahead and bend this one down.'"
Illusion of movement
A happy accident led to Don Dynneson's "Sun Scope," which spirals up from the ground just east of the Lawrence Public Library, 707 Vt. The retired sculpture professor was walking through his favorite scrap yard when he spotted a grid of rebar coiled into a cylinder. He immediately saw potential.
"It would really take a lot of effort to bend each part and weld each one at a time," says Dynneson, of Seward, Neb. "It was a gift. I guess you could say it was already made, although I did the critical thing by cutting it at that particular angle."
He's right. The two segments of "Sun Scope" swirl upward at an angle that plays optical tricks on your eye - as if the sculpture is vibrating or spinning in place.
East of the Douglas County Courthouse, Brian Glaze's "Catapillar" (intentionally misspelled) seems to inch clunkily across the lawn. Stretching 15 feet, the series of welded steel panels rises and falls like the segments of a moving caterpillar and is rendered in the bright golden hue of a Caterpillar farm implement.
"There's not really anything deeply philosophical about it other than I wanted to tie the two things together," says Glaze, of Akron, Ohio.
On the other hand, Steve Elliott's "Cryptograph," if not the product of philosophy, is at least the result of complex technology. The Wayne State College professor designed the steel and wood sculpture using rapid prototyping, a three-dimensional printing technique based on voxels rather than pixels.
The piece, which sits just west of the Judicial and Law Enforcement Center, 111 E. 11th St., contains about 1,000 pieces of wood compressed together and emerging on six sides from a steel structure.
Exhibition details
The 18th annual Outdoor Downtown Sculpture Exhibition opens with a guided tour at 5:30 p.m. Saturday. The walking tour begins at the Lawrence Arts Center, 940 N.H., and ends there with a reception. Exhibition juror David Cateforis, a Kansas University art history professor, will lead the tour. Anyone interested in purchasing a piece in this year's exhibition may call the office of the City Manager at 832-3400. Prices range from $1,000 to $9,500. The exhibition will remain on view through next spring and is sponsored by the Lawrence Arts Commission, the Kansas Sculptors Assn., the Lawrence Convention and Visitors Bureau and the City of Lawrence. The artists and the juror each received a $750 honorarium.
"A lot of people look at it and see it as a very futuristic piece," says Elliott, a Kansas University alumnus who lives in Wayne, Neb. "It almost has a kind of scientific feeling to it."
Mysterious combinations
Nathan Hilton's interest in science and math inspired "Synthetic Haven No. 1," a collection of rusted steel triangles welded into a form that guides the eye skyward at Sixth and Massachusetts streets. It's the first in a series of pieces that Hilton exhibited for his senior show this spring at the University of Northern Iowa in Cedar Falls.
"There's a lot of geometric relations in the piece," he says. "It really is a pretty simple form, but it has kind of a nice sense of implied movement with the slope and the way everything rotates around itself."
Leslie Bruning, whose "All Things Equal" anchors the corner of Ninth and Massachusetts streets, could not be reached for comment. But Cateforis called his work "one of the more enigmatic sculptures in the exhibition, offering a beguiling combination of linear and planar forms, straight and curving lines, painted and unpainted metal." He notes its prominent placement and surmises "All Things Equal" will "puzzle and hopefully intrigue a lot of people."
Photo Gallery
Downtown Sculpture Exhibition 2005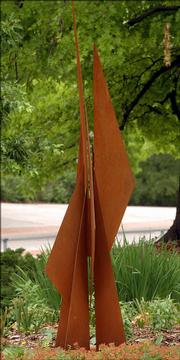 Click the enlarged version to access audio commentary on the works.
More like this story on Lawrence.com