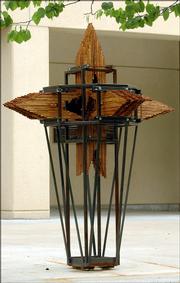 Together they weigh nearly 2,500 pounds. And they represent hundreds of hours spent in junk yards, sheet metal shops and peering from behind welding masks.
So they ought to stand up to whatever Mother Nature dishes out along New Hampshire, Massachusetts and Vermont streets. That's where the new batch of creations in the 18th annual Outdoor Downtown Sculpture Exhibition will stand sentinel for the next year.
Maybe you've already seen one or two of them; they've been in place for a few weeks. But consider this your guide to the entire show.
Kansas University art history professor David Cateforis, who selected the pieces, will lead a tour of the exhibition at 5:30 p.m. Saturday.
More like this story on Lawrence.com