Standing on the roadside dressed as a hamburger, Steve Balbone insisted he and his friends weren't on drugs.
"Everybody's clean," he said.
Still, there they were at lunchtime Tuesday in front of the McDonald's at 1309 W. Sixth St., staging a mock protest aimed at getting the restaurant to reopen as it undergoes renovation. For this group of young artists and musicians - one shirtless, one wearing a furry helmet with antlers - it was as much an act of absurd street theater as it was a serious demonstration.
"I've had this in my head for almost a week to try to do this, and today the reality became a reality," said Balbone, 25, who was wearing a Big Mac costume and a cloth mask with a fuzzy white beard attached. "There's no Happy Meal, so how can you stay at all positive?"
As some of their friends shot video footage, Balbone and five others pumped their fists and gave thumbs-up signals to passing motorists. They shouted, "We're McStarving!" and held signs that read "Montana Mike Stay'd Open," and "Stay Open Now!"
"They could have at least kept the drive-through open," said Patrick Hangauer, 21, who picketed with his brother, Brendan.
Balbone said the group consisted of "starving artists" and musicians from six local bands.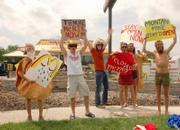 "We're not usually so starving," he said.
He said he hoped the video footage eventually would be edited and shown publicly. When Mel Gibson's "Passion of the Christ" opened last year, the group staged a musical procession on opening night at Southwind 12 Theaters, 3433 Iowa, then showed the footage at the Bourgeois Pig, 6 E. Ninth St.
Dick Hamel, 56, who was doing stone work on the McDonald's, took the protest lightly.
"It just looks all tongue-in-cheek," he said. "It doesn't offend me from the standpoint of the silliness of it, but sometimes when I see people with idle time like that, it's offensive."
Patrick Manning, spokesman for McDonald's of Lawrence, said the store's owners were pleased to hear of the protest - and to learn that it wasn't an animal-rights group.
He said the store closed May 23 and would be under renovation until late June, despite the cries to reopen.
The protesters also called for "tenure" for the McRib sandwich, which Balbone says keeps being reintroduced, then pulled from the menu.
"McRib is really a wintertime sandwich," Manning said. "It'll be back again in November.