With the thrilling sound of bagpipes on Friday night, Lawrence Community Theatre ushered in its last show of the season, "Brigadoon." This award-winning 1947 Lerner and Loewe musical contains beautiful and memorable Broadway tunes, and Lawrence Community Theatre's production, directed by Mary Doveton with musical direction by Judy Heller, artfully captures this tale's appeal to a universal desire for the perfect place, a Shangri-la, a place of eternal life and love.
New Yorkers Tommy Albright (Mark Skolaut) and Jeff Douglas (Mario Bonilla), lost on a hunting trip in the Scottish highlands, stumble upon the mysterious village of Brigadoon. As the two strangers become involved in the village's preparation for Jean MacLaren (Kendra Verhage) and Charlie Dalrymple's (James Horton) wedding, they discover the secret of Brigadoon: It is enchanted and appears to the outside world for one day every hundred years.
After falling love with Fiona MacLaren (Jayna French), Tommy longs to remain in Brigadoon. Skolaut captures Albright's world-weariness and sings with intensity in numbers like "There But for You Go I" and "Almost Like Being in Love." He and French are particularly effective with their first romantic number, "The Heather on the Hill," which must be rendered with a simple kind of beauty in order to convey the innocence of the budding romance. As Fiona, French gives a spectacular and nuanced performance, handling Loewe's challenging music with an easy and mellifluous voice.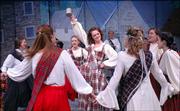 As Tommy's wise-cracking partner, Jeff Douglas, Mario Bonilla shines with sparkle and great timing. He and bubbly Kristen VanEngelen as man-hungry Meg Brockie provide a comic contrast to the leading couple's romance.
Verhage and Horton are aptly paired as the wedding couple. Verhage is sweet and graceful, and although the beautiful "Come to Me, Bend to Me," tests Horton's vocal range, he gives an exuberant rendering of "I'll Go Home with Bonnie Jean," with just the right splash of randy swagger.
"Brigadoon" requires a strong chorus, and this production has one. Certainly there are moments of some individual weaknesses; however, as a group, the women are balanced and strong in "Waitin' for My Dearie" and "Jeannie's Packin' Up," and the men manage musical accuracy and intensity even during the dramatic and difficult chase scene and music.
The cast is ably supported by Dean Bevan as Andrew MacLaren; Pete Peterson as Archie Beaton; Jeff Blair's gruff, hirsute Angus MacGuffie; and Jason Gibson as Jean's sullen, spurned suitor, Harry Beaton. Alfred Lata is a nimble and wise Mr. Lundie, the keeper of the story of Brigadoon's "miracle."
Barbara Wasson's choreography contains some splendid highland flings, which the cast performs with surprising ease, and Carly Fox's elegant turn as a solo dancer is particularly moving as she mourns Harry's sudden death.
The cast looks striking in Annette Cook's costumes. Jack Riegle and Ron Chinn once again create magic with set and lighting designs. Musicians Francene Beal, Elaine Penny and Valance Penn are assisted by pipers Brad West and William Raney, who put the finishing touches on this evocation of the highlands.
More like this story on Lawrence.com