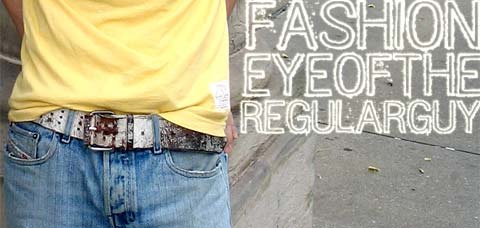 Tom Frame is not a fashion plate.
He will never make Mr. Blackwell's annual list of best-dressed men.
He is completely out of touch with what the men's silhouette for summer looks like.
Even the Fab Five of "Queer Eye for the Straight Guy" fame would pass on this guy.
And Frame, 77, couldn't care less.
"I frankly don't give a (expletive) what other guys are wearing. Fashion never meant much to me," says Frame, a retired Lawrence native.
"Comfort is the main thing. Other than that, that it's clean," he says.
When it comes to clothes, Frame is a regular guy - a no-frills, Midwestern man who relies more upon his own, innate sense of style than on the latest proclamation ("Pink is the new black!") from today's trend-setting fashion gurus.
There are a lot of guys like Frame in Lawrence.
Whether dressed up or dressed down, they tend to get their common-sense fashion cues from close-by sources like wives or significant others, friends, or, on occasion, a men's magazine.
Photo Gallery
Fashion Eye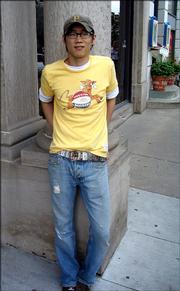 Others say they simply look around and notice what other guys are wearing, or go to a clothing store and see what hits them.
Pushing the fashion envelope, for guys like these, might be as simple as wearing a new color, or trying out a different brand of jeans.
And while they enjoy looking nice, they don't stress out about it, dressing mainly for themselves and staying within a range of what feels right for them.
That certainly describes Frame, who rarely can be seen dressing outside of his comfort zone.
"I don't especially like suits or wearing ties," he says. "I don't know why in the hell a situation developed in this country where people wear ties."
Dressing for comfort
When it comes to fashion, Lawrence men tend to keep things simple.
For Sebastian D'Amico, 22, that usually means Birkenstocks, jeans and a T-shirt, maybe a long-sleeve shirt or a sweater, if necessary.
"If I'm going on a date, I'll wear slacks and a button-down shirt, with the sleeves rolled up. I have like two pairs of nice shoes, one brown and one black," says D'Amico, a 2004 graduate of Kansas University.
He typically shops for clothing at Kohl's Department Store or Old Navy, he says, "because it's cheap and easy, and you can get everything in one place."
His one concession to fashion: Crocs, the lightweight, rubber shoes that are showing up everywhere in Lawrence.
"I think they look stupid, honestly. I just wear them because they're comfortable," D'Amico says.
Style tips
Looking to tweak your sense of style? Jeremy Cain, an employee of Hobbs, 700 Mass., offers these fashion-forward tips:
¢ Read magazines, go to movies and pay attention to trends in music, noting the fashions that appeal to you.
¢ Keep your eyes open to what others around you are wearing, noticing the trends and styles that interest you.
¢ Start small. Try something different, such as shoes, belts, sunglasses or other accessories.
¢ Start inexpensive. Try wearing different colors, or clothing that's tighter or baggier than you usually wear.
¢ Ease into whatever look you're going for, and find something that you will, above all, feel comfortable in.
Grant Robertson, 44, of Lawrence, also likes to stick to the basics.
His style?
"Casual, but not trashy. A lot of people at the coffee shop (where he hangs out) think I don't own anything but T-shirts," he says.
Most days, he can be found wearing jeans, a Henley-style pullover shirt with a three-button placket and a ball cap.
His fashion sense is largely determined by what he has planned for himself on any given day.
"Today I'm running around doing errands, so I'm pretty much dressed for comfort. I do have a couple of really nice things that, when I wear them, people are like, 'Where's Grant, and what have you done with him?'"
Loren Baugher, 39, says he has "the average person's style" - jeans and a polo shirt or T-shirt.
Choosing clothes is easy for Baugher, an installation supervisor at Kring's Interior Fashion Center, 634 Mass.
"Basically, I go to the store and find a color I like. I go to JC Penney a lot or order out of catalogs because I need big-and-tall stuff," says Baugher, who is 6 feet 6 inches tall and wears size 15 shoes.
He dresses mainly for comfort and doesn't worry too much about fashion.
"My wife does some of my shopping for me, therefore I have about 10 shirts in my closet I've never worn," Baugher says.
Movie stars, magazines
Other Lawrence men - while certainly not dandies - pay a little more attention to what they wear.
Like Brad Kemp, 43, assistant director for public affairs at KU's Natural History Museum & Biodiversity Center.
He buys a lot of his clothes at Halls Department Store on Country Club Plaza, in Kansas City, Mo.
"The thing I'm into right now is white shirts that have a texture of some kind. I probably have half a dozen," he says.
"Most of the summer, I wear linen trousers, black and other dark colors. In winter, instead of linen, it's wool. I've also got several microfiber trousers that are great transitional clothes, for spring or fall."
Kemp disdains the idea of being trendy.
"I don't really think of myself as fashionable; I think of myself as stylish. Right now, everybody's wearing striped shirts with big pointy collars; I can't wear that stuff. Like the square-toed shoes (that are popular these days), it really isn't me," he says.
Scott Zimmerman, 24, looks to a number of different sources to develop his sense of style.
"I'm influenced a lot by people in the movies, if one of the male stars is dressed really nice. And magazines like GQ, Men's Health and Details. And also the UK (British edition) GQ. That's cool, because it has the European urban style that I like," says Zimmerman, a 2005 graduate of KU.
He frowns on the notion that girlfriends determine how their guys dress.
"Most girls don't know anything about men's fashion. It's like they're dressing up their dog, so their friends can say, 'Oh, that's so cute.'"
More like this story on Lawrence.com