People don't figure into most of Rebecca Dreyfus' photos.
Photo Gallery
Playing with dark & light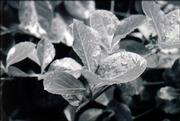 "It comes more natural for me when I take scenery pictures," says the 15-year-old amateur photographer.
Dreyfus got interested in the art a few years ago when she saw her father taking pictures. She thought it looked like fun, so she enrolled in a class at West Junior High School to hone her eye and skills.
"From then on, I've just enjoyed taking pictures whenever I get the chance," she says.
Dreyfus - who sings in the Lawrence Children's Choir, swims competitively and is active in the youth group at Mustard Seed Christian Fellowship - prefers capturing images in black and white "because of the contrast."
"I like playing around with the dark and light," she says.
These images were shot with a 50-135 mm zoom lens on a 35mm Nikon N6000 that Dreyfus got as a gift a few years ago.
More like this story on Lawrence.com