"These guys would rather play their horns than eat when they're hungry," Don McDow says.
He's talking about Clyde Bysom and John Weatherwax. They're across the room, getting ready to play their Thursday night set with the Junkyard Jazz Band at the American Legion. "They carry their horns with them everywhere," says McDow, past Legion commander.
But as attached as the octogenarians are to their instruments - Bysom to his saxophone and Weatherwax to his trombone - they're just as indelibly linked to Lawrence and its musical tradition.
They've been playing here together since 1938.
Bysom and Weatherwax have made music for Kansas University Homecoming dances, crowded halls of war veterans, streets lined with St. Patrick's Day Parade-goers, and hundreds of weddings and civic events.
They've also been sending brassy tunes through South Park on summer evenings for the past 40 years with the Lawrence City Band.
For the latter gig, Bysom, Weatherwax and late bandmate Don Scheid will be honored Wednesday evening, when the two surviving musicians will play a send-off number with the band they both left last season.
"These three people have been so important in my life and in the musical life of this community," says Robert Foster, conductor of the Lawrence City Band.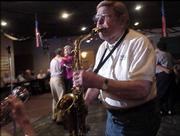 A way of life
The trio is being singled out because of its role in reviving the band.
In the late 1960s, Foster says, they were part of a group of six men who got together and tried to provide Lawrence with a better city band than the one that had played off and on without a permanent home for several decades. Along with Lawrence High School band director Charlie Kassinger, Kansas University band director Kenneth Bloomquist and KU registrar Bill Kelly (who later conducted the band), they quickly established a tradition of playing on Wednesday nights and consistently paying the musicians.
About 1970, Weatherwax recalls, the band upped the ante.
"Bill Kelly and I and Barbara, his wife, went down to city hall several times to talk them into letting us use their park and to build some stairs up to the gazebo," he says. "We didn't have any stairs to get up there, and the floor was about to cave in. And we needed a lighting system built around the top of the gazebo. And the city agreed to do that, and they've, every year, given us money to continue the concerts in the park."
But Bysom and Weatherwax aren't in it for the dough.
"It's my way of life," says Bysom, who is 87 and repairs instruments at Hume Music. "I've been told that one of the reasons I've survived as long as I have is because of the blowing, the use of my lungs and facilities. We call it our therapy."
'Together ever since'
Bysom, born in 1917, grew up in Lawrence, learned to play the clarinet in fifth grade and joined the Lawrence Boys Band in the late 1920s.
"I played my first concert in the gazebo in 1929. I was maybe 12," says Bysom, who plays clarinet for the city band but sax in his other groups.
Throughout junior high and high school, Bysom organized bands that played for parties at KU. He joined the university band program in 1936 and, two years later, met Wichitan John Weatherwax, whom he invited to play in his band.
During World War II, Bysom and Weatherwax didn't see each other much. Weatherwax joined the U.S. Army's 136th Infantry Regimen, and Bysom became an Air Force gun commander on a B-29.
Bysom says his love of music helped get him through the war. He remembers being invited to play at the Officer's Club.
"It just puts you out of the military situation and back into your normal routine," he recalls. "When you're playing, you're not conscious of other things. It's a nice relaxation."
"We weren't together much in the service," says the 84-year-old Weatherwax, a retired accountant and former Lawrence mayor. "But it seems like we've been playing together ever since."
The tunes they like to play most are classics by today's standards: Benny Goodman, Count Basie, Duke Ellington. "I really like all of them," says Bysom, who grew up during the heyday of big band, swing and be bop. "I felt very fortunate because I was able to see and hear every big band that ever made a record."
Loyal members
A smooth rendition of Basie's "Satin Doll" lured several old-timers to the dance floor Thursday at the American Legion, where Bysom and Weatherwax were joined by eight other area musicians. Sure on his feet, Bysom stood up at least once during every song to play a sax solo. Weatherwax, who founded Junkyard Jazz, worked his trombone from his chair.
Noticeably absent were music stands. The group plays what Bysom calls "head arrangements," or tunes that have been etched into their memories over time.
"Junkyard Jazz is all improvising," Weatherwax says. "We used to call it jamming when we were kids playing all that music. The modern name for what we do is improvising."
Both musicians also play in the 23-year-old Jazzhaus Big Band - first organized to entertain at KU's 1982 Homecoming, which had a "Fabulous '40s" theme - and the New Horizons Band, which visits every Lawrence nursing home at least once a year.
Musical farewell
What: A tribute to retiring Lawrence City Band members Clyde Bysom and John Weatherwax and the late Don Scheid during the band's regular weekly concert When: 8 p.m. Wednesday Where: South Park, 11th and Massachusetts streets Admission: Free l For audio clips of the Junkyard Jazz Band playing at the American Legion, go to www.ljworld.com.
"I kid the guys that I think we're just playing these places to preview where we're going to stay in another 10 years," Weatherwax jokes. "That's a fun band to play with because they're all older guys."
So although Bysom and Weatherwax have hung up their Lawrence City Band hats, they remain active in the local music scene - and loyal emeritus members of the band.
"It's a great municipal band, particularly so for a small town like Lawrence," Weatherwax says. "It's truly a treasure of Lawrence, and I think everybody there would play every concert they've ever played again for free."