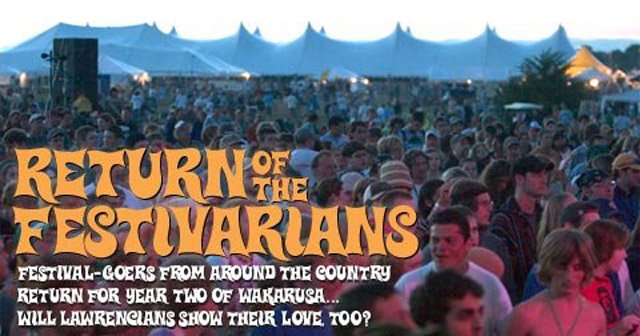 You can thank Jerry Garcia for bringing Wilco to Lawrence, Kansas.
You can also thank Bonaroo, String Cheese Incident, hippies, drugs, the internet and the suburbs.
Without all of these components, the festivarians wouldn't be steering their VW buses towards Lawrence this week. And without the festivarians, The Wakarusa Festival would be selling about as many tickets as this weekend's less-than-marquee showdown between the Kansas City Royals and the Houston Astros.
With non-local ticket sales accounting for an estimated 80 percent of presales, the Wakarusa Festival is a national attraction that just happens to be situated in Lawrence's backyard. It's the second stop on this year's summer festival circuit, sandwiched neatly between Bonnaroo (Manchester, TN) and High Sierra (Quincy, CA). It may be the same weekend as the renowned Telluride Bluegrass Festival, but Wakarusa has already sold as many tickets in Colorado as it has in Kansas City.
The festival's massive scope - 90 bands spread over six stages during four days - is unlike anything ever attempted in Lawrence. Last year, Wakarusa attracted 7,500 people; this year - thanks to big-ticket headliners like Wilco and String Cheese Incident - it's expected to draw at least twice as many.
For that, you can thank the festivarians - festival-goers who travel the country attending massive music events like Wakarusa.
"It's hard to pinpoint exactly what's happening here, but something is definitely happening," says David Barrett, a KU senior who has spent the last few months driving the "Waka Wagon" to every worth-a-damn college town in the Midwest.
"We need to get some sociologist out here quick, because this thing is so rich for study it's unbelievable."
Don't knock it 'til...
The "thing" Barrett is talking about is the festival culture he's been immersed in since he started attending Phish shows during his teenage years. Pilgrimages to Salmonfest, Bonaroo and Moe Summer Camp followed, solidifying his allegiance to the festivarian scene.
"There are a lot of people who like to laugh and scoff at this whole thing but I think it's because they don't really understand," Barrett says. "This is a reaction to the current societal trends of fear ... You don't know everybody, but you sure feel like you do. It's a reaching out to one another - something that's been lost in TV and all that stuff."
Photo Gallery
Day Four -- Wakarusa Music & Camping Festival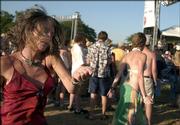 Photo Gallery
Day Three -- Wakarusa Music & Camping Festival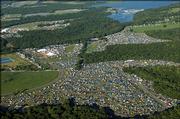 Photo Gallery
Day Two -- Wakarusa Music & Camping Festival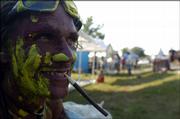 Photo Gallery
Day One -- Wakarusa Music & Camping Festival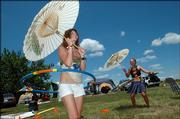 On the surface, Barrett's endorsements might sound like so much regurgitated Deadhead speak. He insists, though, that the modern-day festival scene is "not the same old song and dance."
"When the Grateful Dead passed ... it opened up a whole new universe of all these different bands and tours," he says. "This whole thing has to do with the internet. You get the tour dates the second they come out online; you purchase your tickets online; you talk to other people about it online."
If you're as crafty as Barrett, you also finance your trips by hawking makeshift wares: hemp necklaces, grilled cheese sandwiches and microbrews that couldn't otherwise be found in a particular nook of the country.
"Anybody with half-a-brain can do this stuff," Barrett says. "People are here for fellowship with their friends and with other human beings in a celebration of life. As lofty as that sounds, that's really what's going down."
Madness
The festivarian profile is hardly cut-and-dry, ranging from transient hippies to weekend-warrior full-time workers to "trustafarian" teens from well-to-do suburban upbringings. Festivarianism can be an all-consuming lifestyle or simply a hobby - and it can be as wholesome or debaucherous as one's heart desires.
"It's pretty much an ideal environment to try to new things and open yourself up because there's no restrictions," says Marla Shuman, a 22-year-old KU grad who traces her origins back to the suburbs of Chicago.
"If you're growing up in the suburbs, you're kind of confined to a very small social group," explains Shuman, who has attended three Bonaroo Festivals. "For me, being involved in festivals is like going to a whole new city that kids in the suburbs generally don't go to."
Some festivals - especially the massive private-property affairs - can take on the vibe of makeshift civilizations that largely police themselves. As a result, anything goes - and usually does.
"That's their market - madness," says KC Yessian, a 23-year-old Lawrence glassblower and Bonaroo veteran. "Pretty much the masses win. They get to do whatever they want because if the police started going around busting people they'd riot."
The festivarian scene stretches to single-band tours as well, where heavyweights like Widespread Panic, Ben Harper and Dave Matthews inspire traveling cottage industries. Even lesser-known bands like Sound Tribe Sector Nine - an electronica-influenced jam band from Atlanta - can develop a devoted fanbase that will gladly follow them across the country.
"It's just like an open palette for artists and people who appreciate music," says Onyi Chukwuanu, a Sound Tribe fan from Columbia, Mo., who has seen about 30 of the band's shows. "It's crazy when you go to one of their shows because you'll see people just getting down and dancing their butts off ... Every show is different and uplifting in its own way."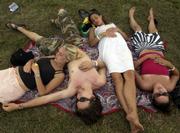 Behind the music
Chukwuana was one of 7,500 attendees onboard for Wakarusa's maiden voyage last year. By most accounts, the festival went off without a hitch, inspiring positive reviews and hopes of a bigger and better sequel.
Behind the scenes, however, there were still lingering doubts.
"We lost a lot of money last year," says festival director Brett Mosiman, owner of Pipeline Productions and The Bottleneck. "It was a scrape to have a second one, and it was a heavy decision whether it was worth it. What really convinced us that it was money well-lost was the feedback from the bands and the fans ... We were encouraged even though we were broke."
Unfazed by the mounting debt, Mosiman and his merry investors did what any savvy entrepreneur would do with a struggling blue-chip stock: they dumped a crap-ton more money into it.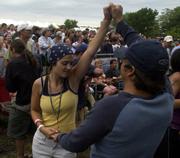 "I think the lesson we learned last year was that we needed headliners," says Mosiman, who committed approximately $100,000 apiece to Wilco and String Cheese Incident. "It's scary to spend that much money, obviously ... You know they draw, but will people come see them in this setting?"
In regards to the jam-happy Cheeseheads, the answer to that question is a resounding 'duh.' But for fans of Wilco and the festival's other non-jam acts, Wakarusa is proving to be a tougher sell. Especially for Lawrencians.
"There's some resistance it seems locally to really embrace the event so far, and we're not sure why," says Mosiman, who estimates less than 20 percent of festival tickets sales are from the Lawrence/Kansas City/Topeka area.
"Maybe because it's a four- to six-day commitment they say, 'Hey, I don't want to take my vacation in my own backyard.'"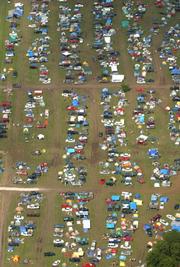 Lawrence freelance music writer Chloe Jones would love to see Wilco in her own backyard. But she says she doesn't want to deal with 100-degree heat, traffic, and poor views of the stages.
"It's just such an ordeal," says Jones. "I know that there is a great culture of outdoor festivals and I'm really glad that Lawrence is doing one ... But logistically I think it's very exhausting, and if what you're really passionate about is seeing the music then that's clearly not the best venue."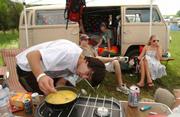 Track record
Given the concerns of potential festival-goers like Jones, Wakarusa is advertising itself as the alternative to the madness; the customer-friendly baby brother to the Bonaroos and Coachellas of the world.
It's a boast that's backed by the festival's many amenities - ample camping grounds, uncongested mountain biking trails, disc golf courses, swimming beaches and even a carnival. Add to that $4 beer (cheap by mega-concert standards) and a competitively priced ticket and you've got a festival that should legitimately stand a chance in an already crowded scene.
"I think what excites me about Wakarusa is that it has a chance to create its own personality," says Deanne Herman, editorial director of the jam-music online bible, Jambase.com.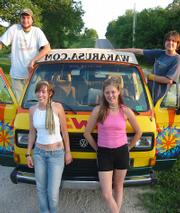 "I just know that I'm going to High Sierra (Festival) every year," says Herman, who lives in San Francisco and will attend Wakarusa for the first time this year. "It'll be interesting to see if Wakarusa creates that kind of feeling where people will want to make a pilgrimage to Lawrence, Kansas, every year.
"I think it's definitely on the right track."