At last year's Wakarusa Fesitval, a curious figure emerged stage-right during the Guided By Voices set. Clad in a "Spy Who Shagged Me" leisure suit and sporting a moptop straight off the cover of "Beatles for Sale," the mysterious hand jiver was Beatle Bob, a longtime St. Louis resident known for performing his jerky, karate-informed dance moves on the sidelines of many an area show. In fact, Beatle Bob travels the country attending such an insane amount of shows that Googling his name returns a mind-boggling amount of photos of him DANCING ON STAGE with both local bands and festival headliners alike. "Beatle" Bob Matonis is a community radio DJ, a freelance music journalist and a frequent master-of-ceremonies at events like Chapel Hill, NC's Sleazefest. This year Beatle Bob will return to Wakarusa to catch the much-anticipated Wilco/Son Volt double bill, featuring the prodigal sons of St. Louis's own Uncle Tupelo, about which he relates his thoughts thusly...
lawrence.com :: Tell me a little bit about your experiences with Uncle Tupelo.
Beatle Bob :: I saw the first Uncle Tupelo show ever. It was at a real famous club here in St. Louis, kind of underground, called Cicero's ... To be honest with you, it was just a terrible show. The guys' hearts were in the right place - you could tell they loved the music they were performing - but it was sloppy, it was very incoherent and to be honest with you I skipped them the next couple times they came in. What turned me around to them was a good friend who worked at a record store ... I said, 'This can't be the same group.' So I went to see them again at Cicero's and it was like a night and day transformation. The guys had really worked at their craft, not just performance-wise but also songwriting-wise. They had matured beyond the realms of imagination. I mean, if you had seen that first show you would literally hold no hope for the guys ... It was almost like they were imbedded with an alien inside them to make them perform that well.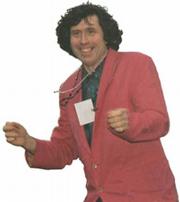 Was there a lot of sadness when they were breaking up...?
It was kind of sad in some respects because they grew up such good friends ... Years later you started reading about it. Jay (Farrar) wanted the music to be profound and serious, whereas Jeff (Tweedy) always had a delicious little sense of mischief.
There's a certain amount of excitement about having Wilco and Son Volt on the same stage, is their not?
Certainly for their fans, no doubt about it. I don't think any of us have an illusion that one of the guys might sit in for a song, although I wouldn't say it's impossible. You often wonder - even though I don't think either of them would admit it - if there isn't a little extra incentive to perform even better.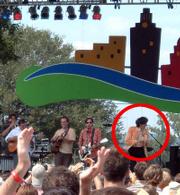 What did you think of Wakarusa last year?
Well, I tell ya, my feelings on why it didn't draw a good crowd are twofold ... I think what happened is that people needed more than a week to gear up again (after Bonaroo) or they thought that Wakarusa was going to be too crowded, even though it was in its first year. I think people either psyched themselves out or they needed a week to recover. But I think word got around.
Who would you recommend seeing this year?
My good friends Ozomatli are playing ... They're really one of the best party bands in America, or the world for that matter. They'll mix in Latino with Brazilian and a little bit of hip-hop. I introduced them one time at The Pageant in St. Louis. They liked my introduction so much that wherever they go they use my introduction on a tape.
Do you think this is the time to see Wilco as opposed to the "Being There" tour or the "Summerteeth" tour? Are they on top of their game right now?
This current album ("A Ghost Is Born") I think is one of the most insightful and compelling things I've seen. These guys to me provide like a postcard from the edge. They're so volcanic and they're always chomping at the bit with energy. What I like best about Wilco is that those guys kind of redraw the boundaries of old-time music, and they do it with not just great musicianship but a delicious sense of mischief.
Wakarusa Festival 2005 June 16 -19 at Clinton Lake featuring String Cheese Incident, Wilco, Son Volt, Calexico, Neko Case, Ozomatli and more...full line-up here Full festival info by day: ¢ Thursday ¢ Friday ¢ Saturday ¢ Sunday
What was your assessment of "A Ghost Is Born"?
Wow, what a surprise out of left field considering what they had done before. They created such a diverse palette of musical styles with a little bit of Brain Wilson-esque pop. I just liked everything about it.
Is Wilco danceable?
Some of their stuff is a little more esoteric, but they branch into the pop venue and there's some danceable stuff. Jeff once in awhile will see me dancing out there and he'll dedicate a song to me. One time they broke into a Beatles cover for me at The Pageant.
Which is the better band, Son Volt or Wilco?
I gotta give the edge to Wilco. Jay's put out some interesting stuff, no doubt about it, but I just think that Wilco plays with a more impassioned sense - everything from raucous rousers to reflective root-folk romps to blistering re-workings of covers. Jay has more of a softer, earthier tone. Both of them pack a real good breadth of styles into concise and well-crafted musical tracks ... If you don't have the patience to be intrigued by this, you better check your pulse.