Thank god Jay Farrar is one of our generation's most gifted songwriters. If not, he'd probably be one of our generation's least gifted telemarketers. His comatose phone presence lends the impression he'd rather be at his desk penning brilliant couplets like, "I would me you anywhere / The Western sun meets the air." But it wasn't Farrar's gift for gossip that inspired us to buy his four Uncle Tupelo albums, three Son Volt albums, three Jay Farrar albums and two retrospective collections - it was the songs, dammit. We checked in with the alt-country kingpin via telephone through to his studio/rehearsal space in St. Louis to talk about his new record, Wakarusa and the complete improbability of an Uncle Tupelo reunion...
Do you have any history with Lawrence, KS?
Quite a bit, yeah. The Bottleneck was one of the first out-of-town venues that Uncle Tupelo did. So I guess it holds a place in the history of that band and Son Volt as well.
Is the festival atmosphere something you're familiar with?
I am familiar with it but the more common gig is playing a dark club late at night. I'm looking forward to it.
There is a particular amount of excitement because this is one of the first shows where Son Volt and Wilco (former Uncle Tupelo member Jeff Tweedy's band) are on the same bill. Is there any particular reason that that should mean anything?
We've done it years ago in Charleston, South Carolina, so we're just continuing the trend.
That's not exactly a trend...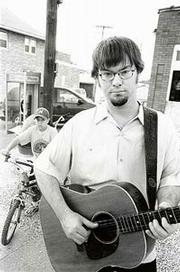 Building one ... There's lots of bands I've still never played a festival with.
Any chance you'll exploit this rare joint appearance and share the stage?
I don't think there's any desire on our parts to exploit it that way.
'Exploit' was bad choice of words. But fact is Jay Farrar, Jeff Tweedy, and even Max Johnston (now with the Gourds) are all at this Festival. A lot of Tupelo fans are excited about the possibility of a reunion, however slight.
Maybe some people will be excited by that. To me it's not something that hasn't happened before. It's just another show.
It seems like you try very hard to just have your own identities at this point?
Absolutely, yeah.
Is that part of the reason for perhaps not having the Son Volt/Wilco St. Louis blowout festival?
(Sarcastically:) Perhaps that's in the works for somewhere down the line.
And the Uncle Tupelo reunion?
Not very likely. But, you know, who would have guessed that The Pixies would get back together.
True - did that trigger anything within you to even consider the possibility?
No. I don't think there's any reason for either of us to consider any kind of reunion. I think we're definitely occupied with our own projects.
You could make a ton of money, though.
(laughs) I'll have to ask The Pixies about that.
Your new album - "Okemah and the Melody of Riot" - comes out July 12 with a new Son Volt line-up. Why'd you make the decision to be Son Volt instead of Jay Farrar?
I wanted to get back to a band scenario and Son Volt always represented to me a certain spirit of songs ... I just wanted to get back to it ... Basically over the last couple years I've done solo records which were primarily acoustic-based recordings. Over that time period I kind of accumulated more uptempo melodic songs that lend themselves more to being electrified, and that's what the approach was this time around. I wanted the approach to be organic; to do as much live as possible just to keep more of a spontaneous feel.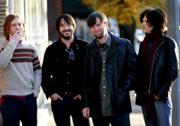 ...Doing the solo records did allow for a certain amount of freedom to experiment, whether it was layering or doing a lot of recording of different instruments all by myself. When I took it on the road I just accepted the fact that I wasn't going to try to recreate that. I just took the opposite approach and stripped it down.
Could you explain the title of the new record ("Okemah and the Melody of Riot")?
Okemah is the town in Oklahoma where Woody Guthrie is from. There's a reference to Woody Guthrie in the first song "Bandages and Scars" ... 'The Melody of Riot' is just kind of a reference to the fact that this was group of songs that were more melodic, I think, than the last solo record.
What's Woody's place in all this?
Primarily it was just a reference in that one song. Woody looms pretty large in my kids' lives. I don't know if it's because I haven't exposed them to Metallica or Green Day yet or what, but that's the kind of songs that they like to hear right now - old folk songs like Woody's ... I guess there's a certain innocence in Woody's writing that maybe kids can relate to.
Can you tell me a little bit about what was on your mind as you were writing lyrics for this record?
Lyrically, it jumps around. A lot of the songs were from an older period - "Endless War" and "Medication" were from the "Terroir Blues" time period ... The rest of the songs were kind of written in the run-up period to the 2004 election, so some of those issues kind of found their way into the writing. But it's not really a political record ... it's just a record that encapsulates some of those issues.
I've noticed through listening to your work that you have a very narrative sensibility. I was wondering if you do much reading or have any favorite authors?
I guess when I first starting getting into reading I kind of identified with people like Kerouac that just had more free-flowing nonlinear style.
Is there anybody now that has your fancy?
Still looking for someone like that these days.
You've lived in St. Louis for 10 years. What is it about the city that keeps you locked in?
Primarily I have family here and familiarity with it, I guess. I do like a lot of aspects of the city - just the fact that it's an old city and there's a lot of old brick architecture and interesting neighborhoods.
Can you describe to me a little bit about your family life these days and how it affects your music?
I guess it hasn't changed it that much other than I have to block out periods of time during the day to write or record, which I think ultimately is a good thing. I've often been kind of forced to get up early - even before my kids get up - to write. I like doing that, actually.
What is the most exciting aspect of your career right now? What keeps you getting out bed in the morning?
I guess just having the luxury of being able to create. I feel lucky that I'm able to do that as opposed to doing a job that I don't like. ... I think you learn from each recording experience, definitely, and just try to use what you've learned for the next one. Along the way you just kind of learn what works and what doesn't.