Sticky floors, grimy walls and dim lighting.
This may be what comes to mind as the backdrop for biker bars based on movies and biker folklore.
But that's not what folks running the Slow Ride Roadhouse Bar & Grill, 1350 N. Third St., want people to think of when it comes to their place.
"We're not looking for the 1 percent bad-biker bar guys," said Janet Dight, roadhouse co-owner. "These are your normal, everyday people who just like to ride motorcycles."
The bar and grill is decked out in chrome, orange and black - colors associated with Harley-Davidson motorcycles. It has a full menu that's served until midnight and, generally, has live music on Saturday nights.
Business has been strong since it opened in late April, Dight said. She said the roadhouse did its best business on the weekends when several motorcyclists hit the road.
The crowd includes full-out bikers, lawyers, doctors, entrepreneurs and "just your regular people who like bikes," Dight said.
The increasing number of motorcycles on the road and interest from bikers prompted Dight and co-owner Maggie Del Campo to establish the business, which is at the former site of FiFi's Banquet Connection.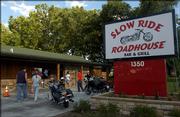 The number of people with motorcycles in Kansas has increased since at least 2000. There were 56,019 motorcycles registered in Kansas in 2004, said Donnita Thomas, with the Kansas Department of Revenue. That's a 25 percent increase over the 44,830 motorcycles registered in 2000 and a 9.6 percent increase from the 51,130 registered in 2003.
Randy Lester said the increase in people getting motorcycles has meant a change in the biker image.
Being a biker has become less of a lifestyle and more of a hobby, said Lester, who owns a shop called Hog Works in Big Springs.
"A lot of these guys don't depend on their motorcycles for transportation," Lester said. "A lot of them are Sunday riders. They ride from point A to point B. People with motorcycles used to use them as their main form of transportation."
Lester said he's from the old-school group that views riding a motorcycle as a lifestyle. He does have some mixed feelings about the new generation of bikers, but he concedes that they have been good for the motorcycle industry.
"I think it's helped the image," he said. "People used to think of Hells Angels when they thought of bikers. That wasn't always the case, but it's what people thought. It's more mainstream now."
More like this story on Lawrence.com