Heather Moore was a bit surprised to find herself seated at a bar Thursday night anticipating the start of a parade of single men.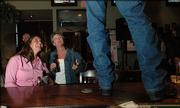 "I'm a feminist Democrat and I'm voting in a bachelor auction," Moore said, shaking her head and laughing. "It doesn't seem right, does it?"
But still, she couldn't help thumbing through a catalog of bachelors, even picking out a possible purchase.
"I like Curtis," she said looking at the profile of a 31-year-old businessman. "But I was a little scared that he was a Republican, so I had to ask him first. He said he's not, so it's OK."
Moore was among the crowd of more than 100 women packed into JB Stouts Sports Bar & Grill, 721 Wakarusa Drive, on Thursday night for the third annual Bachelor Auction to benefit Health Care Access. Above the clink of chardonnay and daiquiri glasses, emcee Phil Bradley introduced 11 of eastern Kansas' most eligible men, all available for a date - for the right price.
Before the bidding began, the men mingled about the room acquainting themselves with potential bidders. Among them was Kent Fincham, a software salesman from Shawnee.
"The goal is not to come in last," Fincham said. "That's the main thing."
And apparently the drive to bring in a sizable bid was not unique to Fincham. In his effort to woo the crowd after Bradley had started calling for bids, bachelor No. 2 Scott Nichols fell off the bar and onto two of the women after his attempt at a handstand went awry.
Last year the event brought in more than $3,000. Totals from Thursday's event were not available, but organizers expect them to surpass last year's amount.