As strange as it sounds, Lawrence - nontropical, landlocked little Lawrence - is crawling with Crocs.
These aren't the scaly, ferocious reptile variety, and they only come in only a few shades of green. But they're right at home in the water, and they tend to travel in packs.
That's because everyone, it seems, is wearing them on their feet.
Yep, Crocs are shoes, and they're so wildly popular that local stores can hardly keep them on the racks.
"It's insane," says Melinda Wyatt, an employee at Shark's Surf Shop, 813 Mass., where a waiting list climbed to 200 people before a shipment of kids sizes arrived early last week. "The past nine months, especially, it's gotten really crazy."
For the uninitiated, Crocs are those quirky clogs that come in every color of the rainbow and look like they'd be perfect for the garden or the beach.
But those who have fallen head over heels for the shoes say they feel so dreamy that they'd just as soon wear them everywhere.
"A lot of people at our school started wearing them," says 11-year-old Maria Watson, who will be a sixth-grader at St. John's School. "My friend let me try them on, and I thought they were comfortable."
Watson's Crocs are purple, with one blue heel strap and one orange. So where do you find a pair of multicolored Crocs?
You don't; you make your own.
"I traded parts with some people at school," she says.
Maria's mother is a Crocs fan, too but for different reasons entirely.
"Personally, I think they're dorky, but if they're comfortable and OK to wear, go for it," says Gina Watson, of Lawrence. "I love them because in the summer you don't have to wash any socks."
Invented in 2002 by three Boulder, Colo., boating enthusiasts, Crocs weigh only 6 ounces and are made of a top-secret resin material that molds to your feet, locks out odor and bacteria, and is a snap to clean. Watson puts hers under the faucet, and some people even recommend tossing them in the dishwasher.
Despite their perks, the shoes remain primarily a Midwestern phenomenon.
Photo Gallery
Different colors of Crocs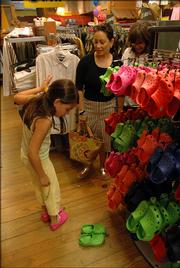 Visitors from Florida who recently stopped by Brown's Shoe Fit Co., 829 Mass., had never heard of the seemingly ubiquitous footwear, says store employee Austin Hart. He says Brown's sells about 70 percent of its Crocs to women, 20 percent to children and 10 percent to men, who stick mostly to conservative hues such as black and navy.
"If they branch out at all, they do yellow and orange," he says.
Kerstin Florman owns a pair of sage-colored Crocs, but it wasn't the shoes' looks that won her over. In fact, she doesn't quite understand why the funky sandals have become the Birkenstock of the new millennium.
"I guess you can't judge it by its ugliness because it's the most comfortable shoe in the world," says Florman, a Brown's employee.
"Lots of older people come into the store (looking for Crocs)," she adds. "They're totally weirded out (by the shoes), but their podiatrist sent them in."
Brooke Wagoner, a 19-year-old Dallas native, decided Crocs were the antidote to the sore feet and back she's sure to encounter as a nursing student at KU Med. She bought a pair in white - a color that should blend nicely with her scrubs.
"I saw some of the teachers with them, and they looked comfortable," Wagoner says. "You're on your feet 12 hours a day."
Although the Crocs craze may just be reaching full steam in Lawrence, Kansas University Russian instructor Erin Moulton was a believer before the bandwagon pulled into town.
"My husband and I have been wearing these for two years. My son decided he needed to have some, too," she says, gesturing toward a red-headed 4-year-old trying on a pair of lime green Crocs.
"I wore Birkenstocks for years, and then my brother got me into these because they're less expensive and they hold up."
The shoes retail for about $30, though their popularity has spawned less-expensive knockoffs.
Stephanie Douglas bought the real deal in bright red for her 4-year-old son, Taylor, on Tuesday.
"I think they're cute. They go with anything," the Vinland resident says. "The different colors make them a lot more fun for kids."
And when those same kids come home "with stinky, little, muddy, nasty feet," Florman says, "you can stand far away and hose them off."
More like this story on Lawrence.com