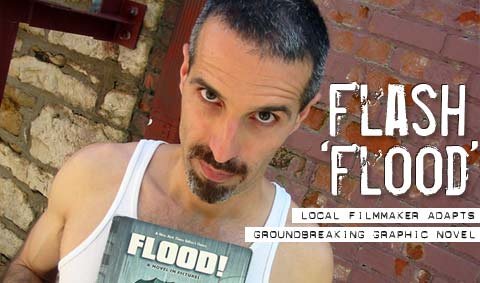 In Eric Drooker's wordless animated novel "Flood!" (1992), the protagonist endures a series of traumas losing his job, his home and eventually his life.
The tragic tale struck a chord with Lawrence resident Oliver Hall when he first came across the novel at a Wichita comic shop. Ten years later, after directing the first-ever film adaptation of the book, the story still rings true.
"As time goes on I understand that I'm almost like the person in that book," says Hall, who worked on the locally produced film "C.S.A." before embarking on "Flood."
"I've sacrificed a lot to get where I'm at," he says. "My family was destroyed because of working on films. My wife left me. So this stuff I feel it."
Active art
Eric Drooker's striking images seem to find a niche with some of our nation's most innovative minds from Allen Ginsberg ("Illuminated Poems") to Rage Against the Machine ("The Ghost of Tom Joad") to "The New Yorker" magazine. He has long been a social rights advocate, licensing his images out for free to activist groups and lecturing around the world about art and politics.
The premier of "Flood" Thursday at The Granada should demonstrate that Drooker's biggest fan may well be Hall, who spent the last year painstakingly translating the book into an animated pan-and-zoom format.
"He understood it on a very deep level, in some ways deeper than I myself understand the work," says Drooker, a Berkeley, Calif., resident who is in Lawrence for a week to accompany the premier.
Past Event
Thursday, June 23, 2005, 7 p.m. to 9:30 p.m.
Granada, 1020 Mass., Lawrence
All ages / Free
Hall had no idea he would embark on such a project when he sent a piece of fan mail to Drooker nearly 12 years ago. The letter which contained a book and nothing else initially confused Drooker.
"I wrote back a postcard saying, 'I'm glad you like my work but what do you want?'" he remembers. "I think finally I grasped the situation and autographed it."
The correspondence made an impression on Drooker, however, and when Hall approached him last year following an in-town lecture, the idea began to take wings. Though a handful of people had already expressed interest in adapting "Flood" into a film, Drooker says Hall was the first to actually follow through.
"He sent me a DVD and it was this beautiful, semi-animated version of the book," Drooker says. "Ollie saw 'Flood' as a storyboard, and he brought the storyboard to life."
Worlds apart
The duo is hoping that the 30-minute film will also be a step towards realizing Drooker's longstanding desire to convert "Flood" into a full-length movie with real actors and a real budget.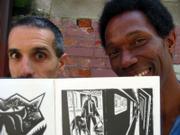 "I think it's obvious to anyone who reads my work that I'm a frustrated filmmaker," Drooker says. "But I don't have the connections and frankly I don't have the patience to deal with all of those motherfuckers."
Drooker is referring, of course, to the film industry. It's an influence that massively informs his work from Charlie Chaplin to Buster Keaton to Orson Wells but also a scene that he has conspicuously avoided.
"The film industry is the ultimate ballbuster," he says. "You're beholden to so many different producers who have the money and they're trying to control your vision : So I said 'fuck it' : Maybe someday (my novels) will be adapted into movies, but I don't have the patience for that.'"
The film version of "Flood" has already attracted attention from the Sony Corp., which has expressed interest in using 'Flood' to demonstrate the capabilities of the company's Vegas Video 5.0 software.
"Apparently this is the first time this technology has been used this way," Hall says.
Comedies and tragedies
For Drooker, the film represents a chance to get more mileage out of a book that's still very relevant in today's political landscape.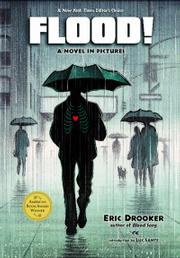 "Real-estate run amuck, rampant militarism, the coming police state these are themes that I saw back in the '80s," Drooker says. "I escaped from New York : But now I have Arnold Schwarzenegger as my governor. So it was sheer folly to believe that I could escape from any social-economic forces."
With its serious subject matter and film noir overtones, "Flood" was an anomaly in a literary scene where graphic novels were few and far between and wordless ones were even rarer.
"The term 'graphic novel' has really become more commonplace in these last five years," Drooker says. "I was really reviving a tradition that no one was working in for the last 50 years that of silent novels."
Drooker is currently at work on a third graphic novel, which he describes as much lighter than his previous efforts.
"I decided in this post-9/11 world we're in that we're living through such tragic times that it would be inappropriate to create more tragedy," he says. "I need something that makes me laugh and gives me a reason to get up every day."
More like this story on Lawrence.com