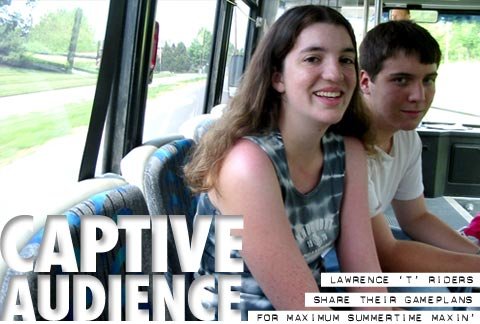 50 freakin' cents.
That's how much it costs to ride the 'T' to anywhere in Lawrence. The bus system is one of this town's most underexploited deals, and - if you're the talkative type - one of the most opportunistic. I hopped on so I could corner some salt-of-the-earth folks into talking about what to do in Lawrence during the summer. A couple bucks and four bus trips across town later, here's what I learned:
(Please note: These conversations are paraphrased - they are not verbatim transcripts).
Marc Burnsworth, 32, liquor store clerk
I've lived in a lot of places and Lawrence is by far my favorite. There's a lot to do, it just depends on how motivated you are. I think the most amazing thing about Lawrence is the people here. I'll get together with friends and throw barbecues. I'm a vegetarian so I'll make shish-kabobs with squash, green peppers and tofu marinated in barbecue sauce. Sometimes we'll set up a volleyball net. I hang out at the skate park sometimes. It's best to go later in the day so the little kids don't get in your way. I also ride the bus around a lot. It's cheaper than paying for gas for my '79 Thunderbird. At night I usually hang out at The Replay. I feel comfortable there and it's cheap, even though PBRs are $1.50 now.
Jim Tramba, 60, bus driver
My wife Sandy and I are birders. We got into it back in the '80s when we used to take trips to the Flint Hills west of Topeka. We spent so much time out in that open prairie area seeing meadowlarks and orioles, and we also loved seeing eagles along the Kansas River. Everybody brings their own story to birding. I happen to like crows. They're so clever and entertaining. It's an acquired taste. You start getting interested in one or two species and suddenly that interest transfers to others. It's easy to be a birder - just get the bird books and some high-powered binoculars and go do it.
Jennifer Crowe, 17, LHS senior
I like to walk downtown. I just walk all the way down one side and look for interesting stores. One of my favorite stores is hobbs (7th and Mass.). The people there are really nice. They have this Dr. Pepper shirt that I really want because I love Dr. Pepper. I work at Schlotzsky's and it's been really dead since the college kids left town. It's pretty fun not like McDonalds or anything. I go to Tad's a lot. There's this one drink called Tiger's Blood, which sounds kind of nasty, but it's like pina colada and cherry, which is really good. Another thing I like about summer in Lawrence is the fairs, like the Douglas County Fair in early August. I live right down the street from the fairgrounds, so I just walk to it every year.
Gary Lange, 52, customer service representative
I just moved to Lawrence a year ago. When I move to any city the first thing I find is a church and the second thing is a liquor store. I like living out on Clinton Parkway because everything I need is right there - Target, the cleaners, the barber shop. My favorite place to eat is Jefferson's. You can't go wrong with a Heineken and some oysters. The Replay is probably my favorite bar. The people seem to be friendly there. I also just discovered Stu's Midtown Tavern. I went in for a beer and I ended up spending the night because they had a great band. I don't go to the movies much anymore or shoot pool like I used to.
Daniel Lassman, 15, LHS incoming junior
This summer I'm going with my family to an environmental conference in North Carolina. We're a very liberal family - I don't know how we ended up in Kansas. I should have been born two decades earlier. It's much harder to get politically active these days and get those good ol' liberal ideas out there - you know, "peace, love, no war." I like to read adventure books. I read whatever I can get my hands on as long as it's thick. Sometimes I'll ride my bike around and end up in North Lawrence. It's a great neighborhood - just slightly run-down enough to make it feel like it's really old, which it is. They have a tradition in North Lawrence that whenever a train goes under the bridge you honk twice for good luck. It makes an amazing echo in the tunnel.
Sarah Ellis, 20
Basically I've just been riding the bus around town looking for a place to work. I just moved here from Lincoln, Neb., and I don't have any "prior retail experience." I interviewed at Yarn Barn and I dropped off applications at a lot of other places that haven't bothered to get back yet. I haven't really done much around town yet. Occasionally I go out and buy some music. I really like Kief's because they have a nice selection of some of the more esoteric titles. I just bought Television's "Adventure," Pavement's "Westing (By Muskat and Sextant)" and the new reissue of Gang of Four's "Entertainment." I should not have worn these shoes. My feet are so tired.
Rita Zeller-Reed, 52, bus driver
I grab every available day-off that I can, but I enjoy my job. We're not supposed to accept tips, but every once in awhile somebody really cares and brings you something. The boys that ride my bus brought me a sandwich from Pepperjax Grill - their Philly cheese steak is the best I've had in a long time. They treat me pretty good; they say they like the way I drive. The kids that ride my bus go to the library on Fridays or Saturdays to check out videos if they don't have a date. Or they'll just hop on the bus, go downtown to see their friends and hop back on. A little bit of rowdiness isn't too bad unless you've got a bus full of people or there's traffic. You raise four kids, you can handle a lot.
Adam Christopher, 24, conference coordinator
I get drunk, mostly at my house because it's the cheapest. I drink hard alcohol - vodka, paint : Just kidding. That's just how I act around the media - embellishing stuff. Actually I probably do the same things that you do. Sometimes I just ride the 'T'. It's kind of utilitarian. I'm not really having fun, but I'm accomplishing something. I like playing darts at the Red Lyon. It's got a nice traditional English bar vibe and free popcorn. I might go to the lake or something but I'm not going to go swimming in a pool with a bunch of little kids.
Look for future "Captive Audience" columns, wherein we'll stake out various community spots where we can corner people into an interview on a different topic each month.