Plymouth Congregational Church was a fitting location for Pulitzer Prize-winning author Marilynne Robinson to deliver a reading Friday during her visit to Lawrence.
After all, the main character in her novel "Gilead," which won the 2005 Pulitzer for fiction this spring, is a Congregational preacher named John Ames who was involved in the abolitionist movement of the 1800s.
The book is narrated by Ames, a 76-year-old preacher from Gilead, Iowa, who is writing a letter to his 6-year-old son in the face of his failing health. He records his inner and outer selves, chronicling the lives of his father, a lifelong pacifist; his grandfather, who went to Kansas to march for abolition; and his childhood friend Jack Boughton.
Addressing the crowd of more than 100, Robinson said she hoped the book would help resurrect the memory of the handful of progressive communities, such as Lawrence, founded in the mid-1800s on anti-slavery ideals.
"We have erased a great deal of cultural memory of the founding of places like Grinnell (Iowa) and Lawrence," Robinson said. "We've frankly put up with a great deal of pain and shame as a consequence of having lost their good work."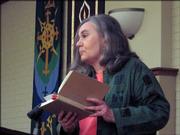 Lawrence and Kansas City were two of the stops on Robinson's current five-city book tour for "Gilead" in the wake of the Pulitzer win.
"We've had some big people, but in terms of literary standing I'd say she's the biggest," said Pat Kedhe, co-owner of the Raven Bookstore, which sponsored the event. "She felt some deep connection to Kansas and the abolitionists, and to Lawrence in particular."
Though she has published two works of nonfiction since her first novel "Housekeeping" debuted in 1981, "Gilead" is only her second novel. Mary Wharff, a graduate student in writing at Kansas University, said she could understand why.
"I think if you read her writing you'll understand why it could take so long," she said. "It's deeply layered and every word counts. It's not easy reading, but it's very rewarding."
The Rev. Peter Luckey of Plymouth Congregational, who has used passages from both "Housekeeping" and "Gilead" in his sermons, said he was thrilled to have the author at his church.
"This is just what I want for our church to be," he said. "To be engaged with writers and thinkers. To have an author of this stature here is very exciting."