Downtown Spokane, Wash., has turned into a computer geek's paradise.
Can't wait to check your e-mail? No problem. Pull out your Blackberry or similar device and check it while walking on one of the city's sidewalks.
Need a little fresh air while you're surfing the Internet for the latest news on "Star Wars: Revenge of the Sith"? Piece of cake. Find a comfortable spot on a city park bench, crack open your laptop and delve into a galaxy far, far away.
For the past year, residents and visitors to a 100-block area in and around downtown Spokane have known no limitations when it comes to entering the information superhighway.
"Our goal has been to make connectivity to the outside world as easy as we can," said Marlene Feist, public affairs officer for Spokane.
With just six antennas mounted on the downtown's taller buildings and 12 smaller devices attached to lightposts to provide coverage in low-lying areas, city officials launched the Spokane Hot Zone one year ago this week.
Ever since, anyone and everyone has been able to receive two hours of free wireless Internet access per day anywhere they happen to be - both indoors and outdoors - in the 100-block area.
"It has been a selling point for our community," Feist said. "When we're trying to attract a convention, they see it as a definite selling point.
"And it even helps when we're trying to attract a company. They look at this and say 'Spokane must be a technically savvy place if it has this.'"
Technically savvy is the type of label Lawrence would like to have applied to it. City Commissioner David Schauner said he had followed the progress of projects in Spokane and other cities.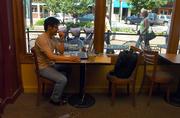 "I think it would make an absolutely fabulous city service if it is reasonable to do," Schauner said. "It seems to me like our downtown would be a pretty simple installation. I would be interested in having a more serious conversation about it."
Competition concern
While the idea has sparked the imagination of some, it has inflamed others. U.S. Rep. Pete Sessions, a Texas Republican, in late May introduced legislation that would ban any state or local government from offering broadband service if a private provider already is operating in the area. The bill would allow cities like Spokane to continue with their services.
"Basically, the idea behind the bill is that for-profit companies shouldn't have to compete with the government," said Gina Vaughn, communications director for the congressman. "Governments can tax and regulate private companies, so by definition it makes it unfair competition."
Feist said Spokane leaders had not heard much opposition from private companies. In fact, a local antenna manufacturer, an area laptop company and other private businesses provided donations that covered about $330,000 of the estimated $400,000 cost to get the system up and running. City tax dollars covered the rest.
But Feist said the community had structured the service in a way that was designed not to take the place of people's regular Internet service. Residents have to begin paying market rates for service beyond two hours per day, and the city has partnered with a private Internet provider to run the day-to-day operations of the system.
But not every community is going that route. Leaders in Philadelphia are attempting to make the biggest splash into the world of city-operated Internet services. With their proposed Wireless Philadelphia project, the city intends to provide wireless Internet access throughout the city, at times competing with local providers.
"Our mayor's platform has been neighborhood revitalization since he came into office in 2000," said Dianah Neff, chief information officer for the city of Philadelphia. "We think this will help in reclaiming some of our low-income, disadvantaged neighborhoods. We want to help residents overcome the digital divide."
A city committee currently is determining how much to charge for the service. Neff said current plans call for low-income residents to receive the service for $10 per month, with others paying $20 or less. The project, which would use private companies to deliver some of the services, is estimated to cost $12 million, though some critics have said that number is unrealistically low.
"That really isn't an ideal way for government to be spending public tax dollars," Vaughn said. "They have so many public works demands already."
Lawrence options
But cities have long been interested in quality-of-life issues, and that's why cities should be allowed to look into wireless projects if they choose, Feist said.
"I think it is a great investment that we have made in our community," Feist said. "I would love to see other communities follow our model. It is that little extra service we can provide. It is like being in a store and having the clerk give you an extra smile. It makes you feel good about where you are."
Schauner said he thought a service in Lawrence also would be about boosting the community's quality of life.
"It is the type of asset that would keep Lawrence ahead of the curve," Schauner said. "It would be another issue for people to talk about and to use as a way to distinguish Lawrence from other communities. The more of those type of issues we have, the better."
Lawrence, though, might already be more high-tech than most people realize, said Patrick Knorr, general manager of Lawrence-based Sunflower Broadband. Sunflower Broadband is owned by The World Company, which also owns the Journal-World.
Knorr said the company, in partnership with local businesses, operates 20 wireless Internet hotspots that people can access for free. A quick search on the Internet turned up about 10 other hotspot locations in Lawrence, not including those on the Kansas University campus.
Knorr said use at the Sunflower locations had been relatively light - about 50 log-ins per day - considering that the company provides traditional broadband service to about 20,000 businesses and homes.
"Right now, the buzz around hotspots is a lot larger than the usage," Knorr said.
Usage in Spokane, a city of about 200,000, also hasn't been tremendous. Feist said that the service averaged about 130 log-ins per day, with about 75 percent of them coming in the evening.
Knorr said he thought the use of hotspots would increase in time, but he said he didn't think it made much sense for governments to get in the business.
"Using taxpayer money to compete with a for-profit business really puts the taxpayer on the losing end in a couple of ways because every for-profit entity pays taxes," Knorr said. "You lose those tax dollars if you take business away from them."