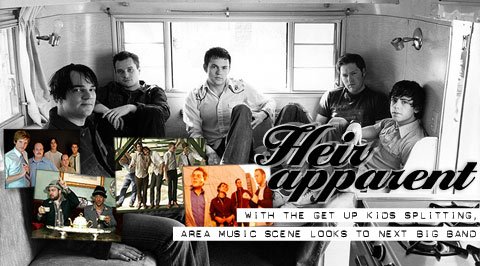 Note: Find mp3s, video, show info and more for the bands in this story via the boldfaced links below.
When Lawrence's Get Up Kids ascend the stage at their final concert this weekend, it will mark the close of a decade performing together. The difference between the band's first show and last show isn't lost on the members.
"It will actually be in a venue as opposed to a basement. And we're all older and fatter," says Matt Pryor, singer-guitarist for the band. "But we pretty much have the same sort of energy."
That energy helped the Kids get a foothold in the area music scene after the first crop of alt-rock radio groups peaked in the mid-1990s. This paved the way for the band to score hundreds of thousands of album sales, national TV appearances and persistent world tours.
But that energy has also pulled the five-piece unit in various directions. For all of the members it has spawned tour-ready side projects, such as Koufax and The New Amsterdams; for others it has meant backing off on globetrotting to raise a family.
For Lawrence, it means that for the first time in years there is no "big band" that represents the city. So do any local acts possess the talent and drive to occupy the slot vacated by The Get Up Kids?
Pryor seems to think so.
"It's 10 percent hard work and 90 percent luck," he says of the Kids' accomplishments. "There have been plenty of better bands than us - Kill Creek comes to mind - that never got as successful as we did."
Upcoming shows
Get Up Kids
As for contemporary artists to watch for, Pryor cites cerebral pop band Ghosty, who rehearses across the street from his home.
"I hear them practicing all the time and they sound really good," he says. "I heard a bit of the White Whale stuff, which is the new Matt Suggs project. I'm a big fan of Old Canes."
Pryor isn't the only one who cites these acts as standouts.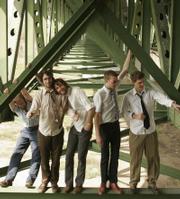 "Ghosty could really explode," says Caterina Benalcázar, who is host of "Plow the Fields," the local music show on KJHK 90.7 FM.
"There's also Doris Henson, who is on tour with (Smashing Pumpkins singer) Billy Corgan. Then there's The Golden Republic and Filthy Jim. But it's hard to predict when a band only has one album out."
Benalcázar has been at the helm of KJHK's all-local show since the beginning of the summer, and she stresses that the station is always eager to receive new music for placement on rotation.
Of all the local acts KJHK plays, she considers herself foremost a "Danny Pound Band loyalist."
"They're all talented enough. You can't deny the fact that Danny Pound is a fantastic songwriter," she says. "But trying to call the whims of the music industry is pretty hard. I don't know that they'll be making Get Up Kids money, but they are who I'd wish it on the most."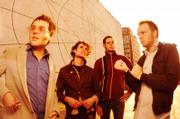 The new Republic
Ben Grimes will get to participate in The Get Up Kids' experience firsthand tonight. His pop-rock act The Golden Republic enjoys the lone opening spot during the farewell performance.
"We've heard a few people talk about the show as a passing-of-the-torch kind of thing. I don't personally want to see it as such because that would be inappropriate," he says. "It's kind of their day so we just want to keep it low key."
After five years together as The People, Grimes' act changed its name to The Golden Republic last year when it signed to Astralwerks Records. The band released its first full-length for the national label in February, leading to a dramatic shift in expectations within the group.
"It's not a big joke anymore," says the former Lawrence resident who now is based with his bandmates in Kansas City. "It was always a slacker thing to do to be in a band. But once people start taking you seriously, you start taking yourself seriously."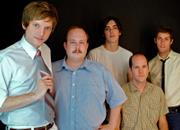 So is The Golden Republic serious enough to warrant the same type of career longevity as The Get Up Kids?
"I'd love to think so," he says. "I really don't know. Kansas City is kind of a weird, fickle place. There are a lot of bands that I think are better bands. Right now I think Doris Henson might be THE band to keep eyes on. They're getting a lot of press and they're indie darlings in certain circles. Their albums are just amazing."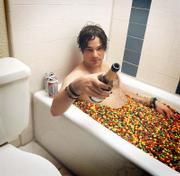 Similar to The Get Up Kids' first few years, Grimes' group is experiencing its greatest success proportional to how far away it travels from its hometown.
"When we go to New York or L.A. or Chicago, we're able to play these big shows and headline to these big crowds. We draw better and we have more radio coverage in most cities than Kansas City," he explains. "It's like in high school: The one girl you want to date won't go out with you, but everybody else will."
The album angle
"Golden Republic, that's a really good record," says Steve Wilson, a manager at Kief's Audio/Video and Kief's Downtown Music.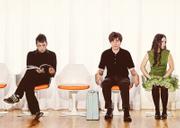 "They've kind of fashioned a hip sound out of stuff that was just on the radio back in the '70s. It's not Television or Patti Smith. It's T-Rex and Golden Earring. But I think they've made something really cool out of it. I hate to sound like, 'I give it an 85 because it's got a good beat and you can dance to it.' But sometimes it gets down to that."
Wilson deals with a tremendous volume of local albums at Kief's, both as regular retail items and those on consignment. He notes strong sales from Lawrence acts such as The Capsules, Minus Story, Ghosty and Get Up Kids side project Reggie and the Full Effect.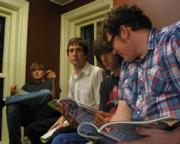 He mentions one of his favorites, Conner, doesn't even have a proper album, but sells its recordings on homemade CDRs.
"They're good songwriters and good players," he says of the band that originally earned a lot of comparisons to The Strokes. "James (Duft) has eased off some of the vocal affectations on this second batch of recordings, and I think that's to his benefit. I think they're musical and they rock."
Not just bands
Speaking of rock.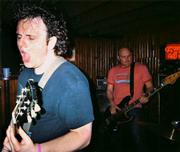 "Without a doubt, Dead Girls Ruin Everything is the best rock band in town," says Chris Cosgrove, Black Lodge Studios co-owner/engineer.
"Dead Girls are the only ones that could find that type of Get Up Kids success, and that's only because half of the band is Ultimate Fakebook, and I think they had unfinished business. They're about the most schooled and songwriting-talented I have seen in Lawrence."
Cosgrove is quick to point out, however, that Lawrence doesn't necessarily revolve around rock bands.
"For that laid-back country flavor, I'm still a big Arthur Dodge fan," he adds. "And for '80s, Cure-ish pop, I like Chemical Ali."
In fact, the next big band out of Lawrence might not be a "band" at all.
"It seems like we're developing a pretty strong underground hip-hop scene in Lawrence," Pryor says. "It's sort of out of left field, because it's not the thing where you think Lawrence you think hip-hop."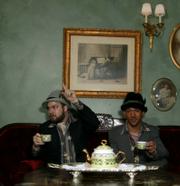 KJHK's Benalcázar echoes the hip-hop assessment, citing the new material coming from rapping duo SoundsGood. But she also mentions DJ Adam Jeffers, who goes by the name Superargo.
She says, "Superargo is probably one of the most entertaining acts we've got locally - which makes no sense to me, because 'entertaining' and 'electronic music' is an oxymoron."
Kids wave goodbye
Concert promoter Jacki Becker just returned this week from attending Get Up Kids shows in New York and Philadelphia.
"It's going to be really sad. I'm probably going to cry," she says of this weekend's swan song.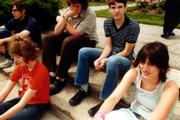 Becker, who owns Lawrence's Eleven Productions, booked the Kids' final appearances at Lawrence's Granada and K.C.'s Uptown Theater. While she laments the loss of one of the area's elite acts, she doesn't think fans need worry about the state of live music.
"I was joking the other night how in one evening I got to see Ad Astra Per Aspera and Minus Story at The Granada, then Davan and Sad Fingers at The Replay Lounge, then I got to go over to The Jackpot Saloon and see The Esoteric," she says. "It's like these incredible local bands all play the same night in this town and there were great crowds at all of them."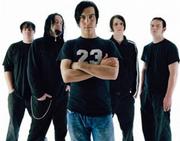 Becker says she sees breakout potential in all of these artists. Yet she warns talent alone isn't always enough to take one to the sonic promised land.
"Even though it's music, it's very hard work," she explains. "It's a business along with being something you love. You just happen to combine the two, which is something most people don't get to do with their lives. But you can actually make a living at it. The Get Up Kids proved that. They took great risks and it worked."
Now all that risk-taking has afforded The Get Up Kids the opportunity to say goodbye on their own terms while at the peak of their skills.
"We're gonna walk away from this and all still be friends and all do other stuff," Pryor says. "Maybe sometime if one of the other guys gets married, we'll all be drunk at the reception and we'll all play together again. But that's probably it for a reunion."
More like this story on Lawrence.com