Deception and murder, blackmail and passion - these are a few of film noir's favorite things. In "Bad Education," Pedro Almodovar's uniquely flavored tribute to the genre, the Spanish filmmaker adds some thematic favorites of his own, including cross-dressing, transsexuality, heroin addiction and ecclesiastical hypocrisy. The result is one of Almodovar's darkest films since the early days of "Law of Desire" and "Matador," and certainly one of his finest.
In Madrid, 1980, filmmaker Enrique Goded (Fele Martinez) is scrambling for inspiration for his next film. He is snipping tabloid articles about a motorcycle rider who drove dead and frozen for 60 miles before being discovered, and a woman who leapt into a zoo pit of alligators, hugging them as they devoured her, when a young man enters his production office.
This stranger is Angel (Gael Garcia Bernal), a bearded actor who claims to be Enrique's old parochial school friend Ignacio Rodriguez. "Angel," the actor tells Enrique, is just a stage name. And he has an old short story for Enrique to consider as his next project, which is based on their mutual past.
Enrique is stunned. At that school, he fell in love with Ignacio, a sweet-faced choirboy who hypnotized priests and students alike with his haunting singing voice. But catching the boys in a compromising moment, the sexually jealous Father Manolo (Daniel Gimenez-Cacho) expelled Enrique. Can this really be the older Ignacio? He takes the story home and reads. And reads.
Movie
Bad Education
***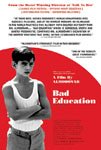 Two 11-year-old choirboys fall in love and are separated by a priest who has sexual designs on them. As adults the men collaborate on the story of this primal experience. Director Pedro Almodóvar ("Talk to Her") seems slightly out of his element with this noir-style melodrama, although it is still a bold, emotional piece of work.
We watch a reenactment of Angel's story, in which Angel/Ignacio moonlights as a drag performer named Zahara. Working with his good friend Paquito (Javier Camara, the male-nurse star of Almodovar's "Talk to Her"), Angel/Ignacio/Zahara seduces a male customer, intending to steal his money when he's asleep. But when he picks through the man's wallet, he realizes he has just been intimate with Enrique, his former school lover.
Enrique continues reading this story, utterly captivated. He decides to make that film and, despite strong misgivings, agrees to cast Angel as the older Ignacio.
This is just the beginning of several stories within stories. Like a set of Russian nesting dolls, they are similar but subtly different. Each tale has its own combination of fact and fiction. And as you might imagine, the entire picture doesn't emerge until the final scene.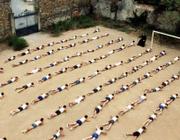 Although Almodovar's actors are usually lead musicians in a complex orchestration, Bernal (the star of "Y Tu Mama Tambien" and "The Motorcycle Diaries") is a standout here. He's a character of multiple roles, who switches from gum-chewing, high-heeled Zahara to Angel with admirable fluidity. And I don't think I can ever look at Juliette Lewis the same after seeing Bernal's blonde-bewigged disguise.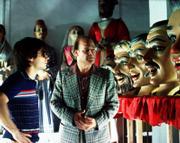 The Almodovar mystique is very much in play: that combination of farce and tragedy, taboo slapstick and tender poignancy. And the writer-director bastes everything in the lurid trappings of soapy Hollywood melodrama (as in the films of Douglas Sirk), noirish classics like "Laura" and "Fallen Angel," with a little Grand Guignol on the side. (Alberto Iglesias's score is a classic nod to the noir scores of composers like David Raksin and Bernard Herrmann.) There is a deep-seated theme of priestly abuse, too. Father Manolo's sexual advance toward the young Ignacio (played by Ignacio Perez), after making him sing a Spanish-language version of "Moon River," is a poetically haunting and discomforting moment. But Almodovar isn't making a film about priestly transgressions, per se, he's telling a story of humankind's darkest impulses with the relish of a campfire (emphasis on camp) storyteller, trying to keep his listeners bug-eyed with wonder. He succeeds magnificently.