Ingrid Jensen: Juno winner, acclaimed jazz soloist and female trumpeter.
While the first two are something Jensen says she is proud of, the third doesn't matter at all to her.
Jensen ignores the gender hype, preferring instead to focus her energies on formulating a sound all her own, a sound influenced by the jazz greats of yesterday and infused with the tones of today's legends. Jensen and her quartet, Project O, will bring this unique combination to the stage during this weekend's concerts for the Kansas University Jazz Festival.
"No one owns music, black or white or male or female," she says. "If I were to concentrate on those surroundings, I wouldn't be where I am today."
Music, especially jazz music, for Jensen became an early passion growing up. She had two influences -- her mother and the family record collection -- that gave her a taste of jazz at an early age. Instead of watching television shows or listening to pop music, Jensen's mother played records of jazz greats throughout the house: Ella Fitzgerald, Bing Crosby and Louis Armstrong.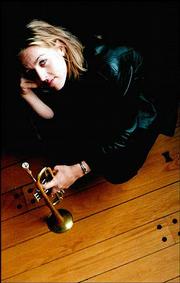 "My mother passed away two years ago, but what she left is a really great respect and love for music," Jensen says.
The trumpeter no longer shuns popular culture. As she has moved through her career, she has drawn more on the styles of contemporary artists.
"People like k.d. lang, Prince, Stevie Wonder and Joni Mitchell are very strong and very original," Jensen says. "It creeps into my playing, finds its way into my writing. They've had a huge impact, and they almost fall into jazz."
Jensen's improvisation and her ability to blend these styles together, also can be attributed to her upbringing in northern Vancouver, British Columbia.
"We spent so much time in nature as kids," she says. "Growing up in such a creative environment really helped me develop an improvisational mindset."
Performing with Jensen at tonight's concert are saxophonist Seamus Blake, organist Gary Versace and drummer Jon Wikan. The quartet makes up the group Project O, which released its debut album, "Now as Then," in 2003. Jensen has also released three solo records. Her first, "Vernal Fields," won critical acclaim from critics. Down Beat magazine gave the album a four-star rating and wrote, "Vernal Fields has the fresh energy and affirmation of a young artist in the act of discovering the outer reaches of her talent." The record also won Canada's Juno Award for Best Mainstream Album of 1995.
Past Event
Friday, March 4, 2005, 7:30 p.m.
Murphy Hall, 1530 Naismith Drive, Lawrence
All ages / $10 - $15
Jensen has also enjoyed international success. She not only toured with "Fe and Males," a production of the Vienna Art Orchestra, but became the youngest teacher at Austria's Bruckner Conservatory. Following her Juno Award Jensen received the Best Newcomer Award at the Cork Festival in Ireland.
Despite her solo success, Jensen claims working in a group was more fulfilling.
"There's an organic evolution coming together as a band," Jensen says. "There are so many levels or interplay, so many levels of interaction."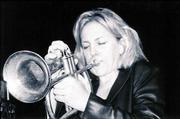 This is Jensen's second appearance at the KU Jazz Festival. Her first came in 1998, when she performed with famed jazz composer Maria Schneider. Dan Gailey, festival director, says the decision to invite her back was an easy one.
"She's in the upper echelon of her craft," Gailey says. "She is a phenomenal artist in her own right. She's non-compromising and an excellent role model. She's proof that you can do anything."
More like this story on Lawrence.com