Opening-night jitters were nowhere in sight as the cast of Lawrence Community Theatre's "Enchanted April" took the stage Thursday evening. The play depends on a gradual transformation of its characters from February gloom in London to April brilliance in Italy. Under Jeanne Chinn's direction, the cast of eight handily achieves this, as the London couples' unhappiness slowly falls away under the Mediterranean sun.
The simple plot calls for four women to take a holiday from homes and (in the case of Lotty and Rose) from husbands. Lotty, a free spirit who "sees" the future, puts together an impromptu group that includes the withdrawn Rose, the high-society belle Lady Caroline, and the starchy older widow Mrs. Graves. Each one is needier in her own way than she realizes, but all yield to the enchantment of their flower-filled villa and the understanding of caring companions.
Jayna French as Lotty is a bundle of theatrical energy, her character brightly trying to make everything come out right against great odds. Doug Wasson as her husband Mellersh has the crucial job of setting up Lotty's discontent with his stodginess and insensitivity, and carries out the assignment well. He also plays a don't-miss comic scene in his skivvies -- and redeems Mellersh's earlier loutishness in the final scene.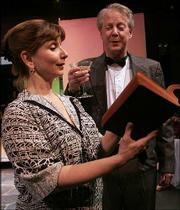 Peg Sampson is a strait-laced Rose, ever-so-gradually softening but still able to complain of Lady Caroline, in their Italian paradise, "She's treading on the periwinkles!" Her revelation of her secret sorrow in Act II is very moving and imparts a depth to the whole production. Rose's husband, Frederick, whose nom de plume as a writer of spicy books is "Florian Ayers," is played very capably by Forrest Lowry. His sense of Frederick/Florian's alternation between roue and bemused husband fits the character perfectly.
Lady Caroline is played by Trina Vincent, who supplies just the right aristocratic hauteur but manages to convey the character's vulnerability at the same time. And Thelma Taylor is magnificent as Mrs. Graves, the wonderfully starchy, frosty widow in black. Even she blooms in a coral skirt and blouse by the play's end.
The rented villa is tended by its owner, the painter Antony Wilding, smoothly played by theater newcomer Jack Hope III. He manages to charm all the ladies, even Mrs. Graves, into agreeableness. Judith Scheff turns in a solid comic performance as the ruling spirit of the villa, Costanza, chattering in Italian to the uncomprehending English and stealing scenes with her sotto voce murmurings.
Jack Riegle's set will make you want to go to Italy. Sharon Sullivan's costumes become lighter and brighter throughout the evening, precisely reflecting the characters' progress out of depression. Ron Chinn's lighting emphasizes the gloom of London and the cheerfulness of Italy. Marti Butell and Kenna Frankenfeld, indispensable as stage manager and assistant, keep everything on track.
The play is light, but it's not fluff. If you can't go to Italy in April, go to "Enchanted April" right now. You will leave the theater, as the characters leave their villa, feeling better.
Dean Bevan is professor emeritus of English at Baker University.
More like this story on Lawrence.com