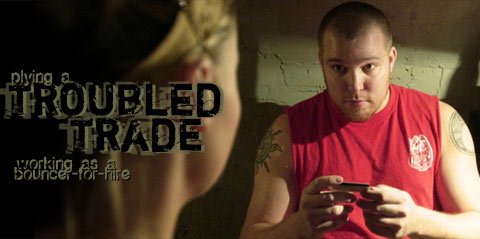 Trouble is Trent Tiemeyer's business.
As a bouncer-for-hire at some of Lawrence's busiest nightclubs, Tiemeyer has taken guns away from customers, head-butted a rowdy drunk and tossed more than his share of troublemakers out the door.
"I throw somebody out almost every night," Tiemeyer said recently after reporting for duty at The Granada. "But it isn't violence, violence, violence. About once a month there is a pretty good fight."
At 6 feet 2 inches tall and 260 pounds, Tiemeyer, 29, is well-equipped if trouble erupts. But Tiemeyer, a longtime practitioner of martial arts such as judo and kickboxing, also thinks he has the communications skills to keep a problem from escalating into violence.
"Everybody is brave if they think they have you alone," Tiemeyer said. "If you have two or three good guys backing you up, they (troublemakers) are either going to walk out or we are going to carry them out."
His presence, others say, can stabilize the sometimes-unpredictable atmosphere surrounding the city's nightlife.
"Not that it's dangerous here, but I feel safer when he's here," said Nick Coachman, a bartender at Abe & Jake's Landing. "He can handle himself. He doesn't get rattled, and he has a very level head."
Freelancer
Tiemeyer, though, didn't quite intend to become a bouncer.
He moved to Lawrence from Columbus, Neb., five years ago to be with his girlfriend. After trouble landing a job, he ended up working as a bouncer at various bars, clubs and concerts in Lawrence and the Kansas City metropolitan area.
And then he stuck with it.
"I found out I was good at it," Tiemeyer said.
He works on a freelance basis, taking jobs for cash payments at various bars and clubs. If a bar or club needs a bouncer on the spur of the moment, they call him.
Most nights are routine, and the most common occurrence is escorting underage drinkers out the door. They don't usually resort to violence.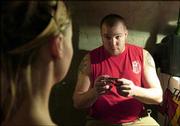 Other nights -- usually when a DJ spinning and the crowds are particularly large -- Tiemeyer has to be ready for trouble.
But he has the advantage over the average alcohol-fueled miscreant, Tiemeyer said.
"You can see what they are trying to do from a mile a way," he said of drunk troublemakers. "If they want to hit you in the head, they think about it for a minute. Then they start to clench their fists and you think, 'OK, I got to step over here.'"
If Tiemeyer is by himself and needs to remove somebody who doesn't want to go, he moves behind and gets them by the arms or elbows.
"If they try to struggle out of that, then I'll put them in a lock, a chicken wing or something that will make them want to walk a little faster," he said.
'A little bit harder'
Tiemeyer has been sucker-punched, he said, but so far never had any injuries that required a doctor's attention.
His scariest moment came one night at an establishment where bouncers learned a customer might be carrying a gun. It was Tiemeyer's job to corner the guy, pat him down and take the gun away from him, which he did. He then held him until police arrived.
"Every time he'd start to struggle I just squeezed a little bit harder," Tiemeyer recalled. "That was probably the most scared I've ever been. I've never had to deal with guns that much in any of the places I've worked."
Another night, several patrons at a now-defunct strip club became rowdy and belligerent while Tiemeyer was working with a couple of inexperienced bouncers. He decided to confront the rowdiest of the group and force him out.
"He grabbed my throat and started twisting, and I head-butted him in the face," Tiemeyer said. "It split my forehead open and he's bleeding all over. We got him outside. I think just me reacting in such a violent manner kept the other guys from wanting to fight. I looked crazy."
'A lot of fun'
Though Tiemeyer dealt with troublemakers at the Outhouse, a strip joint east of Lawrence, he also worked as the emcee and introduced dancers as they went on stage.
"It got pretty tedious trying to think of a different thing to say every three minutes," Tiemeyer said with a laugh. "After doing that six to eight hours a night I kind of ran out of ideas. It was a lot of fun, though."
Bartenders who have worked with Tiemeyer welcome having him around because of his experience.
"He knows what he is doing," said Nick Alphs, bar manager at Abe and Jake's, 8 E. Sixth St. "I can stay behind the bar more often when he's here. It's just great having him around."
Tiemeyer didn't have any plans to leave the bouncer circuit anytime soon.
"I like working nights and sleeping until noon," he said. "I've kind of found a niche, and it's hard to break with what's comfortable. It's a steady job."