I'm new to Lawrence. Scholastic motivations aside, I came to KU because the people are friendly, the campus is beautiful, and let's face it, this school's ritualized addiction to the roundball makes Chapel Hill look like a football town. I most definitely did not come to Lawrence for the Italian food. Certainly there couldn't be an Italian eatery in Kansas worthy of my paycheck leftovers. I, after all, have been to Italy. I've been to New York. No Midwestern pizzeria was going to usurp any of my dining experiences, right? Located in a small strip mall on 25th and Iowa, Paisano's Ristorante not only exceeded my expectations, it motivated me enough to change my critical ways and write a rare positive review.
Paisano's humble exterior and unassuming strip mall location might deter some of Lawrence's Mass Street faithful, but that's ok with me. It suits me fine to be seated within 20 minutes on a Friday night. In a town where a weekend dining experience can create a wait of over an hour, Paisano's had no problem seating us within minutes. Not that it mattered. Paisano's traditional martini lounge gives guests the opportunity to order a drink, watch a basketball game, and listen to Sinatra while waiting for a table in the dining area.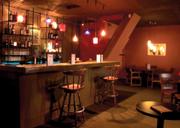 The colorful, but low lighting and the almost subliminally present Italian-American decor created a comfortable atmosphere that certainly gets you in the mood to eat Italian. Once shown to your table in the main dining area, the Italian-American theme becomes a bit more noticeable-I was seated between pictures of Rocky Marciano, Marlon Brando, and of course, Frank Sinatra.
But let's face it, you're not really that interested in the decor, at least, not when the food is this good. Paisano's offers both an extensive menu and a complete wine list that doesn't take a sommelier to interpret. After several minutes of deconstructing the menu, I chose the "Roman Twins," Italian ground beef cannelloni and ricotta and asiago-filled manicotti under a marinara and Alfredo cream sauce. My wife ordered the "Fifteen Layer Lasagna."
It was perfect. Let me put it this way, if you dislike heavy cream sauces, pasta creations with complex and rich textures, if you abhor an overabundance of cheese, Paisano's is not the place for you. Not only were both entrees covered in a melange of asiago and parmesan cheese, but there was barely enough room for the alfredo and asiago cream which was nearly spilling over the plate. It's a good thing there were enough breadsticks to clean up, and enough salad to balance the palate. Admittedly, never-ending salad and breadsticks isn't the most original of Italian-American accompaniments, but this course was, in my opinion, far better than Olive Garden's variation.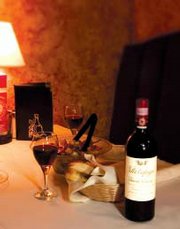 While the prices can get a little steep on a few of the menu items, the majority of entree selections fall between $8 and $14. In addition, a glass of Paisano's house wine selection is only $3-inexpensive when compared to most restaurants of this caliber. In Lawrence, the success of a restaurant depends on its ability to cater to a crowd ranging from dating college students to University administrators. Paisano's achieves this balance. From friendly service to intimate ambience, it is easy to see why Paisano's was voted Lawrence's favorite Italian restaurant. You might want to mark down this date, because I rarely give an establishment this type of endorsement. For knowing its audience, knowing its Northern Italian, and knowing its place in Lawrence, Paisano's receives a 9 out of 10.
For hours, payments methods accepted, specials and more info, check out our Paisano's listing.