Nearly two years ago, Kentucky photographer Tom Hardin, a long time friend and editor of mine, called to say he'd contracted with a photo book project, "America 24/7." It would be similar to "A Day in the Life of America," but its content would be photographed over a week's time: May 12-18, 2003. "Day in the Life" was shot in 24 hours.
Hardin's job was to find 50 state coordinators, and he was asking me to handle Kansas. My job would be to sign up 20 of Kansas' better photographers, hopefully spread across the state.
Requirements:
¢ All images had to be shot on digital cameras.
¢ Each shooter would submit a detailed list of 20 ideas.
¢ The May 12-18 parameters were set in stone. Nothing could be shot before or after those dates. Digital calendars attached to images would police that.
In return, each shooter would receive $500, an Olympus Camedia 5050, some Adobe software and a couple of books. No money for expenses or mileage; it was strictly an ego trip.
Most who were asked jumped at the idea. Some dragged their feet over the minimal payment, and we moved on.
And after "America 24/7" would come state books, 52 of them, that would include New York City and Washington, D.C.
When May rolled around, more than 1,000 professionals had been assigned, and word soon spread that anyone with a digital camera could submit images. This added thousands of participants and produced hundreds of thousands of digital images.
"America 24/7" is a digital photographic success. It's not the end-all of photo books, but it offers a unique feature.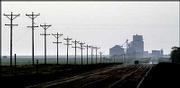 DK Publishing printed 12,000 copies of the Kansas book. It contains 613 photos produced by 150 photographers. Like its parent "24/7" book, it's not the definitive book on Kansas because most of the photographers on the project were looking for rural, quaint, back road, black skies, folksy stuff. And, with everything shot in May, there was no harvesting, snow, college football, county fairs and other things that say Kansas.
But, that said, it turned out to be an interesting collection of Kansas photographs and, for the photographers, a frustrating and complicated exercise in time-management and weather.
Thad Allender:
I can still hear the clock ticking inside my head from the week of shooting the "America 24/7" project. The project organizers stated emphatically that all photos must be shot between 12:01 a.m. May 12 and midnight May 18. The race was on, and I was ready -- or so I thought.
I'd placed calls the month prior and nailed down a handful of assignments that I hoped would confront the stereotypes associated with Kansas. Some of my assignments included photographing agritourists as they visited a local farm, a canoe and camping trip organized by the Sierra Club on the Kansas River during a full moon, and a visit to the local amateur dirt track speedway in Mayetta.
Professional weathermen already have proven that you can't predict weather in Kansas. As luck would have it, a few of my choice assignments washed away in the rain -- along with my attempt at making the picture "worth a thousand words." At the now muddy-race track in Mayetta, I stumbled upon a group of racers who called themselves the "Rez Boyz." These motorheads lived on the Potawatomi reservation and spent their weekends doing burnouts around Thunderhill Raceway. I tagged along for the ride and, as the sun set, I photographed their car heading down the straits in front of the grandstands.
Take a peek at the "Kansas 24/7" book if you have a chance. As a native Kansan, I believe it offers an exclusive view of life in the Sunflower State during the week of May 12-18.
Mike Yoder:
When I was asked to participate in the "America 24/7" project, I was thankful that the shoot would encompass a full week rather than the typical 24-hour, day-in-the-life format of similar projects. I figured that, with so much time, it should be easy to stumble onto interesting images.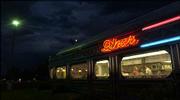 But once the week arrived, I realized how frustrating the reality of all that time was. Each day I questioned whether I was making the best use of my time or if I should be someplace else for better photographs
In anticipation of that frustration, I had planned some specific shots in advance. I picked activities or personalities around Lawrence that I knew could lead to some interesting photographs. I arranged a portrait shoot with a letter carrier friend who creates his own unique musical instruments. I spent time with a sculptor friend of mine in his studio. I attended classes and recess with students at Heritage Baptist Christian School. And I made sure to be at the weekly dance at the Lawrence Senior Center.
Each one of these planned shoots provided me with subjects and opportunities that led both to anticipated and spontaneous photographs.
I also made arrangements to photograph some subjects outside the Lawrence area. I planned a sunrise shot at "Liberty of the Plains," and I arranged with the principal at Smith Center High School to have two senior students in graduation gowns meet me at the Geographic Center marker near Lebanon later the same morning. Researching this area further, I discovered other photo opportunities at Marcon Pies in Washington and L.C.L. Buffalo Ranch in Clifton. Six photographs from these pre-planned subjects were published in the state book.
It turned out that the unplanned and spontaneous photographs were the most gratifying. An evening drive west on U.S. Highway 36 into a thunderstorm resulted in three memorable photographs that made the state book and one, a diner in Marysville, that made the "America 24/7" book. On that drive, I remember feeling content in the realization that I was at the right place at the right time.
During the final days of the week, I began a vacation in Alaska and continued photographing for the project. I even had two photographs published in the "Alaska 24/7" book.