Bill Wachspress has never thrown a javelin. That's why he purchased one for a few dollars Saturday at the annual YART sale in New York School's gym.
"I've thrown long-distance boomerangs but never a javelin," Wachspress said. "I'm going to try this out."
The javelin was probably one of the more unusual items on sale, but this year's YART had just about everything: art works, pillows, lamps, vases, books, toys and more -- scattered among at least two dozen display tables.
The event, organized by the East Lawrence Neighborhood Assn., is a combination of a neighborhood yard sale and art show; thus the word "YART." The sale is a benefit for the association and helps pay for various association projects.
Among those projects, for example, is the neighborhood work day, a day when neighborhood volunteers do odd jobs for elderly residents. This year's project will involve cleaning up sidewalks, especially brick sidewalks.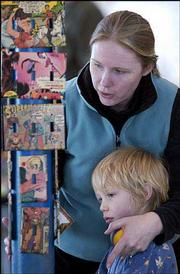 "They need some neighborly care," association president Janet Good said of the sidewalks.
Some of the money raised also will be given to New York School, 936 N.Y., Good said.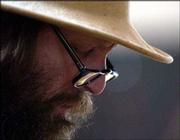 This was the fourth year for YART, and Chris Sechler, a former resident of the neighborhood, loves the event. She put up for sale items she made, including cutout animal garlands and beads.
"This is one of my favorite shows," Sechler said. "It's very laid-back. People are very friendly. It's just a lot of fun."
A procession of musicians also performed during the day, including Alonzo Beardshear, who described his music as eclectic rhythm and blues. Beardshear said he once lived in the East Lawrence neighborhood and two of his children attended New York School.
"These are good people," Beardshear said. "This is all for the good of the community, and East Lawrence has a great community."
It was not known yet how much money this year's YART raised.