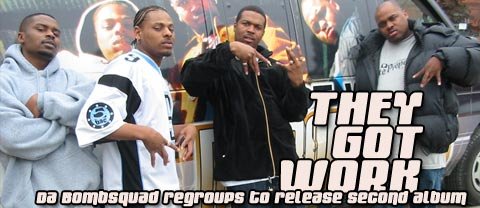 "Promoting this like McDonalds do their fries and shakes / Moving fast, time is money, I ain't got it to waste" Da BombSquad, "I Got Work"
Midwest.
That's the meaning behind Da BombSquad's signature eight-finger gesture.
"It's like dropping a rock in a pond a watching it ripple all the way to the coasts," says James Hawkins, a.k.a. Cassanova. "It starts here."
Spend five minutes with the Lawrence-rap four and you'll see that the group's drive matches its ambition. Da BombSquad hustles CDs like Larry Flynt hustles porn: up close and without a hint of shame. It doesn't matter if you're standing in line at Chipotle, sippin' coffee at Java Break or passing a gall stone if you come within sight of Da BombSquad's painted-up conversion van, they WILL try to sell you a CD.
"We starving to sell CDs," Hawkins continues. "We hungry. We ain't gonna stop."
Ain't workin' for free
Da BombSquad which also features Richard Thomas ("GQ the Country Bunkin"), Tyrone Spates ("Skitzo") and Anthony Vital ("Clacc") has reason to be optimistic after selling more than 5,000 copies of its debut release "Timz Up" and performing with the likes of Wu Tang Clan, Tech N9ne, Lil' Flip and 2 Live Crew.
The group's self-released second album "I Got Work" marks a fresh start and also an opportunity to rebound from a sour experience with the 5150/Lock-N-Load label that released "Timz Up."
"We weren't seeing how many records we were selling; we weren't seeing money from anything," Clacc says. "It hurts, man : I just learned from it. I know never to trust anyone like that again without getting it on paper."
After a year-long hiatus, Da BombSquad is starting afresh under the group's own In Da Middle Entertainment label. "I Got Work" features 13 new tracks (plus three skits and an intro) that cull inspiration from popular club-bangers like Juvenile as well as "inspirational" rappers like Tupac.
Cassanova says the group prides itself on introspective tracks like "Hold On," during which he raps, "I think the devil's working overtime tempting me / I know 'cuz I got a lil' pimp in me." The group shouts out Christ as frequently as 40s and weed on "I Got Work," confiding that as much as they want to do right, they sometimes can't resist doing a little wrong.
"We party, we have fun, we kick it we do it all to the extreme," Cassanova says. "But when it comes time to be serious, we're very serious. We're very spiritual young men."
Skitzo delivers the group's mission statement right off the bat with an acapella intro to the album: "People always told us that we wouldn't make it / And that the Midwest was too country to ever break it." The title track offers up more brag-laden confidence: "If you need a job come get it from me / We givin' out vacations in six months / We smoke big blunts / We pull big stunts / We keep our pockets filled up with big lumps."
"It's positive music," Clacc adds. "We have something for the streets; we have something for the ladies; we have some positive music for the kids : Kind of on the spiritual side, in a normal way."
Album Mp3s

I Got Work
Work to do
Much of the group's drive to succeed stems from the fact that Kansas isn't known as a breeding ground for national rap acts.
"That's our drive to say we're first ones to do it for the state of Kansas," GQ says. "We know as a unit that when this happens for us when our hard work and determination pays off it's going to be very big because nobody has done it before."
Da BombSquad has benefited from its kinship with TechN9ne, who has invited the group to open a number of Midwest shows.
"Tech has opened a lot of doors for us," GQ says. "Just performing in front of his fans is like, 'Wow.' You can't beat that."
The group also took pride in a recent performance at Lawrence High School in conjunction with Black History Month. The daytime assembly was especially meaningful for GQ, who graduated from the school in 1993.
"I had never dreamed of anybody coming to the school to perform for me, let alone me performing for my school," he said. "(Performing at LHS) meant that I could be confident in the road that I traveled : I wasn't on the honor roll; I wasn't guaranteed to make it."
Though the group hopes to eventually obtain major label support and/or distribution, they have lots of "work" to do in the meantime. Day-to-day activities include cruising around in the van, setting up shows and in-store performances and promoting their new CD to radio and retail.
"There's no better feeling than to call the radio station, talk to the program director and have him tell me, 'I got your CD and I can't wait to get y'all down here,'" GQ says.
"Every time I hear that it's like, 'There ain't no reason for me to stop.'"