Choosing music during Guthrie family road trips leaves every man, and woman, fending for themselves.
"Sometimes we are smashing each other's fingers trying to change the radio stations," James Guthrie says.
As the parents of a 13-year-old boy, James and his wife, Diane, have had plenty of musical disagreements. Their son, Dylan, is a seventh-grader at West Junior High School. He plays in a rock band called Rastaa-Fish and prefers listening to grunge or metal music.
James says that while his son's taste in music generally differs from his own, they often agree on classic rock music such as Bad Company, Led Zeppelin and the Rolling Stones.
According to a recent study conducted by Sam Goody stores, the Guthrie family is not alone. The survey found that it doesn't matter how old you are, a great band is a great band.
The survey of more than 1,000 teens listed the Beatles as the greatest band of all time, raking in 27 percent of the surveyed population. Metallica ranked second with 20 percent of the vote; and Nirvana rounded out the top three with 17 percent.
The grunge rock darlings are one of Dylan's favorite artists. In fact, he introduced his father to Nirvana.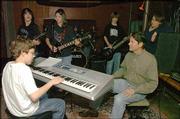 "In the early '90s we were having kids, and I sort of missed out," James Guthrie explains. "Then (Dylan) started listening to them, and I rediscovered them after the fact."
Sally Campbell, a junior at Free State High School, says the Fab Four likely garnered so much of the teen vote because of their pervasive influence.
"They made such headway in music and broke down so many barriers that they really brought rock 'n' roll to the forefront, where it stayed for a very long time and remains today," Campbell says.
The study also asked teens which of their parents' favorites they would most like to burn in a fire. The results indicate classics such as Elton John (28 percent) and John Denver (21 percent) would fuel the blaze.
But Lauren Bornstein, a senior at Free State, disagrees with the findings.
"As I own half of the Elton John CDs in my household, I'm quite surprised," she says. "Many of my friends love 'Crocodile Rock' and 'Rocketman.' Ridiculous!"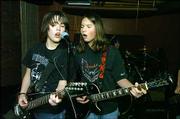 Bornstein says she and her parents enjoy many of the same artists.
"My mom and I always sing along to the oldies radio station because we love the '60s," she says. Sometimes she even catches her parents borrowing music from her room.
Despite survey results indicating parents and children are on the same musical wavelength, Lawrence families may not be quite ready to share entire CD collections. But in the midst of their musical diversity, it seems families are finding common ground.
"I'm optimistic that at the age of 13 Dylan is already pretty far along," James Guthrie says of his son. "Pretty quickly we'll have very similar taste in music."