Set your radio dial at 93.3 and run your scanner through the range of FM stations, and it's easy to tell who's popular on the airwaves: The top-40 stations are playing new Kelly Clarkson. The easy-listening stations are playing old Kelly Clarkson.
If you switch to a country station, you could bet your little brother a buck that Tim McGraw's "Live Like You Were Dying" is playing.
They're called top-40 musicians for a reason, because their latest releases are at the top of Billboard charts.
But there are Lawrence students who not only do not shake their booty for Beyonce, they're not even that interested in pop music.
"I enjoy listening to music from the '60s and '70s such as Jimi Hendrix or the Doors," said Beth Ruhl, a senior at Bishop Seabury Academy. "They did a good job of artistically expressing the revolutionary spirit of those times."
She also said the Doors were experimental and that she liked their creativity.
Laura Parkinson, a junior at Lawrence High School, prefers older music, too.
"I love the oldies, especially the Beatles. Whenever I am stressed out, I listen to 'Let it Be,' and it relaxes me so much. The peaceful state that the Beatles put me in makes me listen time after time," she said.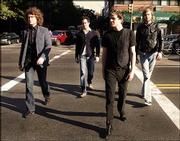 Free State High School senior Lauren Bornstein also looks in the past for inspiration.
"I like big band and jazz," she said. "I love Frank Sinatra because you can truly dance, not 'grind' like the younguns of today."
Tim Barta cites Linkin Park, an alternative rock group, as his favorite. He not only likes its musical style, he appreciates the band's good works, which he says includes $100,000 raised for tsunami victims.
"Chester Charles Bennington, Michael Kenji Shinoda, Joseph Hahn, Bradford Phillip Delson, Robert Gregory Burdon and David "Phoenix" Michael Farrell are the six band members of this one-of-a-kind band, and I love their music," said Barta, a ninth-grader at Central Junior High School.
South Junior High School eighth-grader Emily Keizer likes newer artists, but she, too, steers away from pop, even if some of these artists are more popular.
"I will listen to anything, but what I love listening to most is indie/alternative rock. Bands like The Killers, The Vines, Sum 41, blink-182, and Modest Mouse are my favorites," she said. "It's music like that, good honest music, that I want to hear, not run-of-the-mill rap/pop."