Dodgeball -- the childhood game that made pencil-thin students quiver and school yard bullies drool -- is making a comeback in Lawrence.
And now it is no longer just for kids.
Lawrence Parks and Recreation will begin offering an adult dodgeball league beginning April 6. The department already has 13 six-member teams signed up for the league. Roger Steinbrock, marketing supervisor for the Parks and Recreation Department, said there was likely a simple reason for the popularity.
"I think it is basically that there is a kid in all of us," Steinbrock said. "Sometimes softball, volleyball, basketball become very competitive. This we think will have more of a recreational feel to it. It will just be a good way for friends to come together."
Hollywood, though, also is helping fuel the sport's popularity. The game that once used to be the domain of sadistic gym teachers has begun to gain a widespread appeal after the 2004 movie "Dodgeball" hit the big screen. The comedy, staring Vince Vaughn and Ben Stiller, followed a lovable group of losers as they tried to win $50,000 in a dodgeball tournament.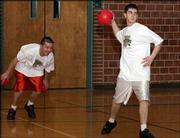 For those not familiar with the game, or those who have repressed the memory, the game involves two teams throwing rubber balls at each other. If a player catches a ball, the thrower is out of the game. If a player is hit with a ball but doesn't catch it, the player is out of the game. The last team to have a player standing wins, but usually everyone walks away with a nice red welt from being smacked with a ball.
For Lawrence resident Mark Matzdorff, those memories were enough for him to form a team.
"We had watched the movie and thought, 'Why not get a team together?'" Matzdorff, 25, said. "I just remember it was a lot of fun when we were kids. You could just go throw a ball and take out all your frustrations on somebody."
Parks and Recreation officials are aware of that element of the game. They don't like it so much, so they have made it illegal to hit players in the head. They've also ordered special foam filled balls with a rubberized coating.
"They're heavier than a Nerf ball, but hopefully they won't produce that sting of the old playground balls," said Tim Laurent, an organizer of the league and a facility operations supervisor for the department.
Laurent said the idea for the dodgeball league actually grew out of a successful venture into the game of kickball. The department started a fall kickball league last year and began receiving a few requests for dodgeball. Laurent said Lawrence was not alone in adding the sport to its offerings. He said several parks and recreation departments in Johnson County offer it, Garden City has a league and, appropriately enough, Dodge City is developing a program.
"It really is popping up all over the country," Laurent said.
Steinbrock said he thought it was part of a larger trend of people wanting sports that reminded them of when they were younger. In that same vein, Steinbrock said, the department is considering adding "hooping," an aerobics class that requires participants to do a variety of exercises with hula hoops.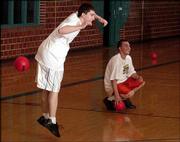 Matzdorff welcomed the change. He said he participated in basketball and softball leagues but was excited to try something different. And he said he hoped his being a big fan of the movie would give him a leg up on the competition.
"But I don't think we'll try the wrench-throwing thing," Matzdorff said of a scene in the movie that featured the team's trainer throwing wrenches at his players to teach them proper technique. "But who knows, maybe we will if we don't play very well. Like they said in the movie, if you can dodge a wrench, you can dodge anything."
People interested in registering a team for the upcoming Parks and Recreation dodgeball league have until 5 p.m. today at the Community Building, 115 W. 11th St. The cost is $120 for a six-member team. Leagues are available for men's, women's and coed teams. The eight-week season begins April 6. Team members must be at least 16 years old.