Justin Marable knows Kansas rural life first-hand, having grown up in Robinson - a town of 200 about 70 miles north of Lawrence - where not even a bank remains today.
Now 22 and having lived in Lawrence for four years, he returns home with an appreciation of the landmarks of rural life. To Marable - a younger brother of Aaron Marable - these symbols of home are something remarkable, uncluttered and have a story to tell.
Marable's show "Rural Recollections" is the culmination of a year of work and a lifetime of observation. With money from a KU undergraduate research grant, he spent his summer photographing rural Kansas. The past eight months have consisted of a labor-intensive screen-printing process that lifts those images out of their original settings and place them in Marable's painted pastoral settings - plains and skies bursting with saturated colors.
The juxtaposition between the singular, developed structure and the encircling, natural sky is the show's most common trait, but that incongruity plays an important role beyond the composition of the pieces. "The screen printing process itself is not organic, it is more industrial, so I am making all these images of rural America but I am using this industrial process. I use the photo stencil to create the man-made structures but then I paint this natural world that is changing all around it. I try to contrast those two themes, but also tie them together through color."
Past Event
Saturday, April 2, 2005, 6 p.m. to 10 p.m.
Olive Gallery and Art Supply, 15 E. 8th St., Lawrence
All ages / Free
Taking his cues from "the sublime that comes in the openness of Kansas," Marable creates sprawling skies that rival the real thing. "The skies are usually the most fun part of the process because they are so spontaneous. With them I am trying to evoke the natural world around these man-made structures." These structures, at first glance, seem to simply remind us of life in the country - a grain elevator, a silo, a church. But on closer inspection their dilapidation, and isolation, become apparent. "Many of these structures hold a lot of historical significance, so I am trying to record these things before they actually fall down - before they no longer exist."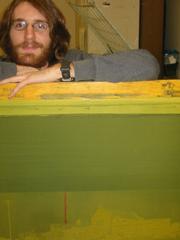 "Rural Recollections" quietly evokes a sense of sadness, said KU associate art professor Michael Krueger, but that sadness is for a greater cause. "His prints are kind and gentle and leave one with a subtle feeling of remorse, but more so, with a feeling that change brings reflection, (and ultimately) this reflection heals."
Marable wants his show to inspire people to discuss and learn about what is happening in the Kansas countryside. "I am definitely doing some social critiquing on what I am seeing," but more importantly, he continues, "I want to record the history of communities that are becoming forgotten about. I kind of romanticize the idea of those old buildings in an aged landscape and I am trying to bring back some pride."