Former "NYPD Blue" star Rick Schroder will be in Lawrence this week for the Midwest premiere of "Black Cloud," a movie he wrote, directed, produced and stars in.
The Thursday showing at Liberty Hall, 642 Mass., will open the first Haskell Film Festival, a three-day event designed to call attention to American Indian actors and filmmakers.
"I've never been to Lawrence. I don't think I've ever been in Kansas, so this is a first," Schroder said during a recent telephone interview from his home in Arizona. "I love showing my movie to new audiences and watching their reaction."
After the screening, Schroder, 34, said he would field questions from the audience.
Organizers hope the festival will become an annual event.
"Indian filmmaking is a burgeoning field right now," said Joni Murphy, an English instructor at Haskell Indian Nations University and an adviser to the school's Stories-N-Motion Film Club. "There are lots of Indian film festivals, but they're all on the West and East coasts. We're pretty sure this is the only one in the Midwest."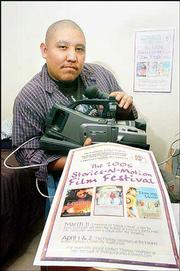 Murphy, a member of the Creek Nation, said much of the movement was fueled by Indian resentment toward how they've been portrayed in the media.
"It goes all the way back to the silent-film days," she said. "Indians are seen as savages or drunks or unintelligent, unsavory or Tonto-subservient and incapable of playing themselves. We even had (actor) Chuck Connors play a blue-eyed Geronimo. Can you believe that?"
The festival moves to Haskell auditorium on Friday and Saturday for several short films, documentaries and a pair of feature films:
¢ 7:30 p.m. Friday, "American Indian Graffiti," written and directed by Haskell graduates Tvli Jacob and Steve Judd.
¢ 7:30 p.m., Saturday, "Dancing on the Moon," a Rod Pocowatchit film produced by the Sundance Institute and the American Indian Film Institute.
"All together, 22 films will be shown," said Thomas M. Yeahpau, a Kiowa and president of the Stories-N-Motion Film Club. Two of Yeahpau's short films will be shown.
"A lot of people don't know it, but there's an underground Native film movement going on here," Yeahpau said. "It's getting bigger every day."
Though Schroder is not American Indian, Yeahpau and Murphy said he was welcomed.
"He has a genuine interest in depicting Natives accurately in film," Murphy said. "A lot of Native people hope this isn't his last Native film."
"Black Cloud" is a fictional account of a young Navajo boxer's quest to reach the U.S. Olympic team while coping with dead-end life on a reservation.
Production costs, Schroder said, were financed by about a dozen American Indian tribes. The film festival's costs are being underwritten by a $5,000 grant from the Kickapoo Tribe of Kansas and support from the Lawrence Chamber of Commerce.
Schroder said he hoped the film would help break down some of the negative stereotypes.
"I grew up watching a lot of westerns where Indians are treated as savages who wanted to kill the pioneers," he said. "It was image that was foisted on them for all the world to see.
"'Dances With Wolves' was one of the (movies) to treat Indians as human beings, that showed them as they really were," Schroder said. "In a way, 'Black Cloud' is an attempt to show the modern Indian as they really are."
More like this story on Lawrence.com