The last time she counted, Patricia Elliott Marvin had about 30 boxes of books, posters, drawings and other assorted leftovers from the Beat Generation.
"I want to get down (to) two boxes," Marvin said Thursday while sorting through a pile of William S. Burroughs paperbacks, many of them signed by her good friend, the author.
"I need to simplify my life," she said.
Marvin, 56, is having a Beat Generation garage sale Saturday in her home at 810 E. 13th St.
"The art will be in the front room, the books will be in the dining room," she said. "The cookbooks -- I have about 800 of them -- will be in the back library."
Marvin met and befriended Burroughs in 1978 in Austin, Texas. "I liked him right away," she said.
They remained close confidants until Burroughs' death in Lawrence in 1997. He was 83.
Burroughs, best known for his experimental novel "The Naked Lunch," and his influence on writers Allen Ginsberg and Jack Kerouac, settled in Lawrence in 1981.
"I think Lawrence restored his soul," Marvin said.
Sale items include:
¢ A short stack of programs from the River City Reunion, an event that brought the best of the Beats to Lawrence in 1987.
¢ Signed copies of Burroughs' "The Place of Dead Roads," "The Wild Boys: A Book of the Dead," "Tornado Alley," "Queer," "The Western Lands" and "Letters to Allen Ginsberg."
¢ A Carl Apfelschnitt poster commemorating Burroughs' 70th birthday in New York, signed by Burroughs and Apfelschnitt.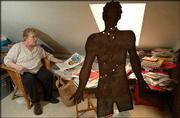 ¢ A complete set of "City Moons," a Lawrence-area underground newspaper from the late 1960s.
¢ A letter to Marvin from Burroughs, explaining how to care for his cats while he was away.
¢ A collection of art prints and small-press publications from Lawrence, 1968 to the present.
¢ Black-and-white drawings by risque underground comic artist S. Clay Wilson.
¢ Dozens of Burroughs T-shirts.
"These are the only T-shirts authorized by Burroughs that bear his image," said Marian O'Dwyer, former owner of the Phoenix Gallery who's helping Marvin.
So far, Marvin said, she's not had second thoughts about parting with so many prized possessions.
"I know this is going to sound weird, but I finally figured out why I am doing this," Marvin said. "It's because I miss (Burroughs). I have all this stuff, sitting dead in a box. That's not where it belongs. It's alive, it ought to be with people who will appreciate it, who will read it. I want them to have it."
The sale starts a 9 a.m. No early callers will be allowed.
Marvin said she expected the sale to turn into a mini-reunion of Burroughs alumni.
"I'm hoping it will be an event," she said, "and not just a sale."