Chanisa Arthachinda loves shots of industrial-strength espresso, but not for the usual reasons.
It isn't the taste that she craves, nor is she addicted to the energizing jolt of caffeine the stuff instantly delivers to coffee drinkers.
Instead, she paints with it.
Since 2001, Lawrence resident Arthachinda has used espresso -- nearly black and thick as oil -- to create 29 of her coffee-on-canvas paintings that resemble antique sepia photographs.
Her choice of artistic medium is meant to be consumed by the eye alone.
"You can't drink it," says Arthachinda, 49. "You'll be knocked out just by smelling it."
But it's the end result of her careful brush strokes that really provides the knockout punch.
Her work, which Arthachinda says is an extension of her long-standing meditation practice, makes you forget there are any colors in the universe other than brown.
She doesn't seem to need them, anyway.
The spectrum of brown -- from cafe au lait to dark chocolate -- is all the palette she requires.
"At first it's difficult compared to (using) acrylic. It's one color. It depends on how much water you add to it to create different tones," she says.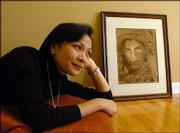 Her paintings aren't created for the sake of beauty alone, though.
"It is my most powerful meditation method. It brings the faith of my past, the love of my present and the hope of my future to the 'now' moment," she says.
Arthachinda's espresso paintings, graphite sketches and India ink-and-prismacolor note cards will be exhibited today through June 11 at Unity Gallery, 900 Madeline Lane.
Chocolate, lard
Painting with espresso might seem unusual, but it's really not.
Arthachinda has some artistic company.
"Yes, there certainly is a history of artists using edible media to create art. Three come to mind right away, but I'm sure there are many more," says David Cateforis, a Kansas University professor of art history who specializes in modern and contemporary art.
He cites German artist Dieter Roth, who, in the 1960s, used a variety of edibles in his sculptural work, including spices and bananas. Most famously, he created small, cartoon-like self-portrait sculptures out of chocolate, which through time have gradually deteriorated.
"They are powerful meditations on the passage of time and impermanence," Cateforis says.
On view
What: Espresso Art, by Lawrence resident Chanisa Arthachinda
When: Today through June 11, with a reception from 4 p.m. to 6 p.m. today
Where: Unity Gallery, 900 Madeline Lane
Hours: 10 a.m. to 4 p.m. Monday-Wednesday, 10 a.m.-6 p.m. Thursday and 8 a.m.-2 p.m. Sunday
Info: 841-1447
In 1992, artist Janine Antoni made a work called "Chocolate Gnaw," chewing the edges of a 600-pound cube of chocolate and then expectorating the chewed-up chocolate and pouring it into molds to create heart-shaped candy boxes literally made of chocolate.
She did the same with a 600-pound cube of lard ("Lard Gnaw"), spitting out the lard, coloring it red and using it to make red lipsticks inserted in ready-made lipstick cases.
"Her work has all kinds of associations with consumption, obsessive behavior, binging and purging, and our culture's obsession -- especially as it affects women -- with food and personal appearance," Cateforis says.
More recently, artist Vik Muniz has made drawings in chocolate syrup of famous historical personages such as Sigmund Freud, and famous images from the history of art, such as Gericault's "Raft of the Medusa." Muniz then photographs the chocolate syrup drawings, presenting the photograph as the final work of art.
"I find that his work speaks of how images in our culture are consumed but perhaps don't nourish us," Cateforis says.
Enriched spiritual journey
But why coffee?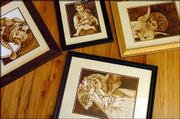 Arthachinda, a native of Thailand who has lived in Lawrence on and off since 1980, says the idea to use espresso to paint came to her in a dream.
"A wise woman told me that I am a painter. I was aware I was dreaming, and so I asked her what kind of medium the painter was using in the dream," she says.
The next morning, Arthachinda made an intuitive leap that coffee was the answer to her question.
"I just poured my espresso on my canvas" and started painting, she says.
Arthachinda has no formal artistic training. She earned a doctorate in educational technology from Kansas University in 1992.
She has published seven books in Thailand that are about childhood emotional growth and parenting.
She is retired from her career as an architect. Her husband, Sam Trangjaroenngar, 52, is an architect with Treanor Architects, 110 MacDonald Drive.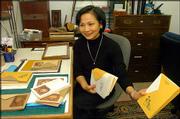 The couple has two children: Nick, 21, a KU junior; and Nina, 18, a KU freshman.
Arthachinda, who has practiced daily meditation for years, says creating her espresso artwork has enriched her spiritual journey.
"I started painting because I thought I'd like to find a method to incorporate with meditation. Since meditation has everything to do with how we see things, you can use something that is more physical, yet mental, to portray your state of mind," she says.
Arthachinda was raised by Buddhist parents and attended Catholic school as a youth. But she does not see herself as belonging to any one faith.
"I identify myself as 'global,' she says. "I am interested in other religions. I think it's a privilege to be able to look at spirituality from different points of view."