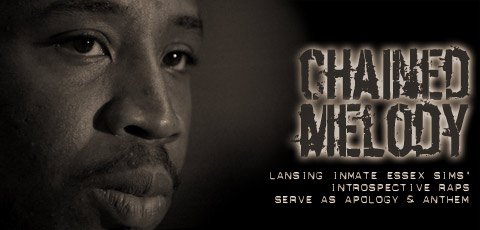 Essex Sims may have fired the shot that killed a rival gang member.
Then again, he may not have. A lot of people were shooting that night.
It doesn't matter. Sims says he was there, he had a gun and he shot at the three men sitting on the front porch of a house in one of the roughest neighborhoods in Wichita.
"I take responsibility for what happened," said the 29-year-old Sims, an inmate at the state prison here for the past 10 years.
A self-taught poet and rapper, Sims has written "I Wish I Never Hurt You," an introspective song he hopes will serve as an apology to all those he's harmed.
"The one thing you learn in prison is that you didn't just hurt your victim," Sims said. "You hurt yourself. Your family. Your kids. People who had faith in you. Everybody.
"That's something I've been dealing with in here since day one," he said.
Among Lansing inmates, "I Wish I Never Hurt You" has become an anthem of sorts.
"It's a moving song," said Brett Peterson, a spokesman for the prison.
Sims performed the mid-tempo tune during a Jan. 19 inmate forum on violence, and it has resonated since. "To this day," he said recently, "(inmates) walk up to me and say how much it influenced them or touched them."
The song caught the attention Brian Daldorph, a Kansas University assistant professor who's taught a creative writing class at the Douglas County Jail for the past four years.
"It's really powerful," Daldorph said. "I got the sense he's put 10 years of his life into it. But what's really striking is that while most rappers go on about how tough or hard they are, (Sims) couldn't be more humble. He's asking for forgiveness."
"I got excited listening to it," said Jeffery Mack, a KU graduate student who teaches a course on hip-hop literature.
"The fact that he expressing remorse is not unique. Other rappers have done that," Mack said. "But what is unique, I think, was that he's not just rapping about himself. He's giving a voice to the voiceless."
Mack said he reminded him of the Last Poets, a group of socially conscious poets from the '60s and '70s whose style has influenced many rappers.
A warning
More than an apology, "I Wish I Never Hurt You" warns listeners to steer clear of the gang lifestyle.
"A lot of people like to put a positive spin on gangs -- a sense of family and all that," Sims said. "But it's all negative, and a lot of it's terrifying."
Sims said he joined the Neighborhood Crips when he was 15 or 16.
"It's hard to explain why I did," he said. "I came from a good home. No drugs. No abuse. No violence. My parents had us -- I have three brothers and six sisters -- go to church every Sunday."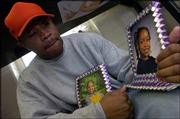 Still, Sims said his childhood was forever scarred by a run-in with a teenager at a Wichita music festival.
"I was like 12 years old," he said. "I bumped into this older dude on stage. He got all in my face and then he came back with like 10 other gentlemen -- they were all way older than me."
Scared and outnumbered, Sims said he was beaten by the group and dumped in a park.
"That always stayed in my mind," he said. "I didn't come from a violent home, but there was a lot of violence in my neighborhood. I had a lot of fear in me."
Sims' 16-year-old cousin, Tyrone Sims, was shot and killed March 15, 1994, when another 16-year-old opened fire on a crowd that had gathered to watch a fist fight.
Almost a year later, Essex Sims, then 19, and his brother, Cleave Sims III, then 21, were part of a March 22, 1995, drive-by shooting, during which three men -- Michael Vann, Courtney Fair and Randy Lattimore -- were shot.
Lattimore, who was hit in the chest and abdomen, bled to death during emergency surgery. He was 19.
Witnesses said Lattimore was among 30 to 40 people standing outside a house in northeast Wichita when people in two passing cars flashed gang signs. When the cars drove by a second time, shots were fired.
"It was a war going on," Sims said. "There was all kinds of shooting that night. It was bad, man."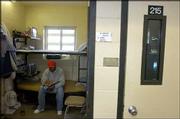 Contacted by the Journal-World last week, Lattimore's grandfather said he had no interest in hearing "I Wish I Never Hurt You."
"I cannot forgive him for what he did. He killed my grandson, who I'd raised since he was a baby," said George Lattimore, a former constituent worker for former Gov. Joan Finney.
"I want nothing to do with (Sims)," Lattimore said.
Vann was shot and killed last year while standing outside a Wichita nightclub. He was 26.
'You're dead'
Sims and his brother were charged with first degree murder, aggravated battery and criminal discharge of a firearm in Lattimore's death. Both received life sentences.
"It's tough in here," Sims said. "It's like I say in the song: 'We don't think about the pain 'til the pain is ours / we don't think about life 'til it's life behind bars / I never gave death a thought 'til I was dead to the world.'"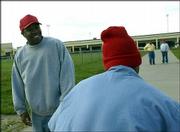 From an inmate's perspective, Sims said, prison is a form of death.
"On the outside, when you lose a loved one, you grieve and you learn to accept it. You cope. You move on with your life," he said. "But in prison, it's like the opposite thing happens. You're the one who's dead; everybody else grieves and moves on. It's like you don't exist anymore. You're dead."
Sims maintains contact with his two 11-year-old daughters, his brothers, sisters and parents.
"Terry -- that's Essex's middle name, Terrell -- is a good young man who made a bad mistake," said Sims' mother, Mary Sims. "We did everything we could to keep him away from gangs. He was raised in a Christian home, but it wasn't enough."
Mary Sims said she and her husband drove to Lansing to visit their youngest child twice a month, weather permitting.
"He knows we love him," she said.
The Neighborhood Crips haven't been as supportive. Sims said he's not heard from any of his former associates, though many have found their way into prison.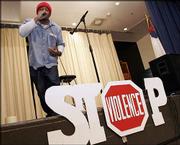 Remorse
Sims is not alone in his remorse.
"All of us, I think, have our own impressions of what it's like in prison," said Russ Thompson, assistant director of the Missouri Center for Safe Schools and a former chairman of the STOP Violence prison programs in Kansas. "But what I've been hearing over and over lately is how much the culture in prison has changed over, say, the past 10 years.
"It used to be you always had to watch your back -- that's not so much the case anymore," Thompson said. "Now, what I hear them talk about is how hard it is get their lives turned in a positive direction. That's not an easy thing to do or to talk about in prison."
Sims agreed, noting that he expanded "I Wish I Never Hurt You" to include crimes other than his own after realizing other inmates were wrestling with the same emotions.
"It's not about one individual," he said. "It's about everybody. We've all hurt somebody in our lives. I just want people to stop and reflect on that for a minute. Say you're sorry because you may not get a chance to."
More like this story on Lawrence.com