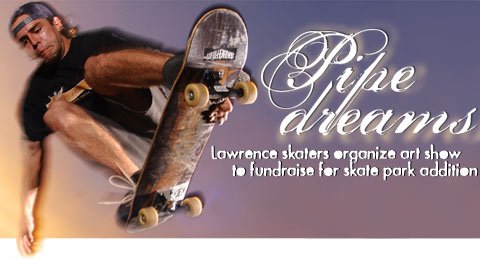 Craig Stucky doesn't know where he'd hang out if it weren't for the skate park at Centennial Park.
"If I didn't have this park, I wouldn't have anywhere to go. I would be a completely different person," says Stucky, unsure whether he would be interested in art if he hadn't picked up skateboarding.
Stucky now has the opportunity to put together his two favorite hobbies. He's one of 32 artists who designed skateboards to sell at an upcoming benefit for the skate park.
Organizers of Art on Skateboards are raising money to help the city build a bowl for the 6 1/2-year-old park. The bowl would be an in-ground concrete structure, similar to a swimming pool.
The skate park - built atop dilapidated tennis courts - features an urban street course that includes a concrete plaza, quarter pipe, half pipe, grind rail and two split quarter pipes.
"This park is really great," benefit organizer Stephanie Pugh says. "The only thing that is missing is a transitional element."
Pugh approached local artists with the idea for the fund-raiser, which asks artists to use skateboards as their canvas. She says people are painting, printing and even carving into the boards.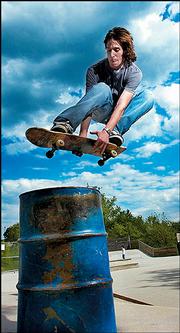 "Every artist we talked to was really into it," she says. "We ended up having to order another order of blank boards so we could get some more artists."
Michael Krueger, associate professor in printmaking at KU, says the benefit is a great opportunity for artists to do something "different than what they otherwise might do." Krueger has skated for the past 25 years and says he's always been interested in skateboard art.
"There's always been graphics on boards," he says. "A lot of skateboarders tend to be artists because it's such a creative sport."
Krueger spent about 25 hours on his "one-of-a-kind" board that features a colorful hand-painted illustration of Quantrill's Raid. Stucky describes the design of his board as "clouds throwing up on people."
The show features college students, high school students, professional artists from traditional and nontraditional backgrounds, and tattoo artists.
Past Event
Monday, May 16, 2005, 5 p.m. to 8 p.m.
Jackpot Music Hall, 943 Mass., Lawrence
All ages / Free
"I'm sure all these people are making their boards in secret, in their own studios, just like I am," Krueger says. "It will be fun to see what people have done."
Members of the Lawrence Skate Assn. have been talking with city officials about the addition of a bowl. Justin Shiney, a skate association member, estimates the structure would cost between $40,000 and $50,000.
"Expanding the park would be beneficial," he says. "Right now, the park gets overcrowded. I did a head count on a Friday afternoon, and there were 46 kids there."
Fred DeVictor, city parks and recreation department director, says he has met with members from the skate association. Although there is no timeline for the addition, he says the city and the association are "both in tune" with the plans.
"We don't have the funds right now," he says, "but it's something we'd like to do in the future."
The skateboards cost $75 each. After deducting costs, a sold-out benefit would raise $1,800. It's a small step, but Pugh hopes it will get the wheels turning.
"We want to help," she says. "We want the city to know we don't expect them to throw it (the money) at us. We want to make sure it's built by skaters."