The secret's out of the bottle: Lawrence has become a wine lover's town.
And, based on interviews with people in the Lawrence restaurant and liquor business, a good deal of the credit for the boom of interest in wine goes to the film "Sideways."
That movie, which follows the adventures of Miles (Paul Giamatti) and Jack (Thomas Haden Church) during a weeklong trip to California's Santa Barbara wine-producing region, opened Dec. 3 at Liberty Hall Cinemas and didn't close until April 1.
Flocks of Lawrence-area residents saw the bittersweet, comedic film, and, it appears, had their appetites whetted for the taste of good wine -- especially Pinot Noir, Miles' favored libation.
Regan Lehman witnessed the birth of the current wine fad in Lawrence.
When "Sideways" opened at Liberty Hall, Lehman, 24, was working as a bartender at the old Jayhawker bar in the Eldridge Hotel, near the downtown movie theater.
"We actually monitored our wine sales in relation to the movie. We started kind of watching it. A lot of people were encouraged to come over and drink wine after seeing that movie," she says.
"We did have a lot more people asking questions about Pinot Noir. And I did see more people who wanted to put in their two cents (about wine), like what the movie showed."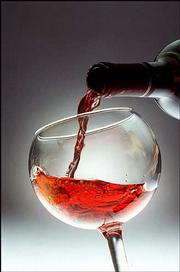 The scene that played out at the Jayhawker has since spread to restaurants, liquor stores and other places across Lawrence. In the wake of "Sideways," attendance at wine tastings and special dinners built around the wines of a particular vintner, have never been greater.
So many people are turning out for these events that you might as well paint Lawrence a nice, winey shade of purple.
Jeff Jensen, owner of Jensen Retail Liquor, 620 W. Ninth St., is among the merchants in town who are thrilled with the effect of "Sideways" on their business.
"It was a neat little flick, and it definitely didn't hurt wine sales. It brought kind of a little bit more awareness of wine to people, especially Pinot Noir, which was a focus of the movie," Jensen says.
"People got to see the wineries and a bit of the wine-making process. They kind of got a feel for the wine industry -- that kind of sparked it."
Jensen helped start a wine-tasting group that meets the fourth Thursday of each month at Henry's, 11 E. Eighth St.
He organized the group, called "Eighth and Vine," about three years ago, and now it's going stronger than ever.
The tastings typically attract about 20 people, who pay $15 per person to sample pours of six or seven wines. Jensen always attends, along with a wine salesman or other guest speaker.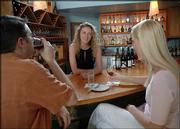 Interest among Lawrence residents in learning about fine wine is growing, according to Jensen.
"I've been in the business for 15 years now, and it's amazing how big the wine segment's become. We're getting college kids (of legal drinking age) who are wine savvy now. They used to just drink beer," Jensen says.
Lawrence resident Al Spencer, a sales representative with Glazer's of Kansas in Leawood -- a wine, beer and spirits distributor -- helps Jensen run the wine tastings at Henry's.
"When 'Sideways' came out, there was a definite spark of interest in Pinot Noir," Spencer says. "Obviously, the movie was very popular, and it helped bring a little more attention to the wine industry as a whole."
But if the film has swelled sales of Pinot Noir lately, it has certainly done no favor to Merlot wines, at which Miles -- in the movie -- throws a fit at the prospect of having to consume.
One of the film's best lines, in fact, is Miles' furious declaration, "I'm NOT drinking any (bleeping) Merlot!"
"I feel sorry for the wine makers who are making Merlots. In the mid- to late-'80s, early '90s, that's what everyone was drinking. So maybe it has a pedestrian connotation to it," says Ken Baker, chef and proprietor of Pachamama's, a fine-dining restaurant located at 2161 Quail Creek Drive.
Movie
Sideways
*** 1/2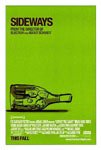 Writer/director Alexander Payne ("About Schmidt") has a specialty for finding wicked humor in unguarded and awkward moments. Two friends (Paul Giamatti and Thomas Haden Church) set out for a bachelor-style tour of California's wine country and instead get a face-full of uncomfortable nudity and a broken nose.
Tastings attract crowds
Wine tastings and special wine dinners have long had a strong following in Lawrence, but "Sideways" has boosted the popularity of these events into high gear.
Twenty to 25 people typically attend weekly wine tastings on Fridays at Pachamama's. They pay $15 to $20 for 3-ounce pours of three to five different wines, as well as a variety of appetizers from the kitchen.
"We did a wine tasting a week or two after 'Sideways' opened, featuring the wines from the movie, and it was one of the biggest wine tastings ever. Everyone saw the movie and wanted to try the wines," says Roy Lopez, Pachamama's manager.
The restaurant has thrown wine dinners, showcasing the products of a particular vintner, region or country, that have drawn anywhere from 20 to 120 people. Average attendance is 20-25 people, each of whom pay about $65 to participate in the dinners.
Pachamama's Baker hasn't seen "Sideways" yet, but he has witnessed its effect on his business.
"I think I see it more in terms of how much Pinot Noir we're selling. Two of our California bottles, we had to take off our wine list, because they're all gone. I'll have to wait about six months before the next shipment gets to Kansas," he says.
Meanwhile, the bi-weekly wine tastings at Quinton's Deli & Bar, 615 Mass., regularly draw a full house at the upstairs bar.
"They open at 8 p.m., and the first hour there's a few regulars, the (wine) connoisseurs. Around 9 or 9:15 p.m., more of a college-age crowd comes in. It's been literally packed," says Tony Quartaro, 21, a Quinton's bartender who's worked at the wine tastings.
Participants pay $10 to receive generous pours of five different types of wine. They also get a full glass of the wine that they like the best at tasting.
"You can tell younger people are starting to notice (good wine). They're not just drinking rum and Cokes and bottles of Bud Light. It's a nice alternative to have," Quartaro says.
Downside to attention?
Opportunities for people to educate themselves about fine wines continues to grow in Lawrence.
The newest offering is a series of 10 one-night wine classes that will be taught by Steve Wilson in his basement wine cellar at the Thai House, 724 Mass.
Wilson, a Lawrence resident and longtime wine lover, owns the building, which used to house his restaurant, PrairieFire: An American Bistro. It closed in 2001.
There will be room for 20 people at the class, each of whom will pay $20 per session (or $90 for five sessions). Wilson's cellar holds 2,200 bottles of wine that he's collected. His first wine class is Wednesday, "Wines for Warmer Weather."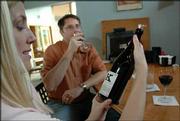 "Sideways" focused plenty of attention on fine wine, but there's a downside to that.
"More people are wanting to get into wine, but they're buying these Pinots that are crap, that are like cherry Kool-Aid. The bad Pinots are getting sucked up, and the people who really love Pinot are having trouble finding the good stuff," Wilson says.
Meanwhile, Dan Blomgren, owner of Cork & Barrel Wine and Spirits, 2000 W. 23rd St., is enjoying the aura that "Sideways" has cast around wine these days.
"The nice thing about it is that it's brought a ton of attention to Santa Barbara wines, and even more specifically to Pinot Noir. Huge increases (in sales) -- there's nothing else I can attribute it to," Blomgren says.
He's a believer in the power of pop culture -- in this case, a movie -- to effect his business.
"The only other thing like this that I can think of -- and this is not a great example -- is Cristal champagne. It's featured in quite a few rap songs and in that urban culture. So I get quite a few requests, just because it's mentioned by P. Diddy," Blomgren says.
"These kids who come in (to his store) have no idea what it costs -- about $200 a bottle, give or take. And it's almost impossible for me to get."