Marshall Rake knows what it's like to be one of the only teens in a 21-to-enter bar with big black Xs on his hands, signifying that he won't be drinking.
It has happened almost every time his band, The Shaggy Haired Outcasts, has played in Lawrence.
"The age limits are a problem because most fans, or friends, are under 18," said Rake, a Free State High School junior and guitarist for his band. "The last all-ages show we played was Battle of the Bands (in November at Free State)."
All-ages concerts in Lawrence may seem scarce at times, but local venue managers are generally receptive to them. They understand local bands' desire for exposure. Of course, some bars will stick steadfastly to their 21-to-enter rules, but The Jackpot Saloon and Music Hall, 943 Mass., plans to open its doors to more all-ages concerts.
Matt Sullivan, director of operations at the Replay Lounge and the Jackpot Saloon, and Ron Hayes, booking agent for the same two bars, have warmed up to the idea of having regular all-ages concerts at the Jackpot Saloon. They've had a good experience admitting patrons 18 and older to the bar so far.
"The 18-year-olds have been really appreciative and respectful," Sullivan said. "They're in the crowd to see the music, not to try and get a drink."
When Sullivan opened the Jackpot Saloon in 2004, his intention was to showcase "older" shows. The Replay Lounge has consistently admitted no one under 21.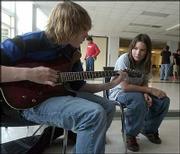 "With the debauchery in here, it's for their own good," Sullivan said jokingly from a booth at the Replay Lounge.
At the Jackpot Saloon, though, Sullivan and Hayes realized it was a mistake to set an age restriction. So the bar has been having more 18-to-enter shows, and the managers are planning to begin weekly all-ages concerts.
"I remember what it was like to not be able to go to shows when I was under 21," Hayes said.
He said there were more 18-to-enter concerts now than there were 10 years ago because the music scene had changed. Sullivan and Hayes want to continue the trend.
But don't expect the Replay Lounge, or other Lawrence bars with 21-to-enter restrictions, to start dropping their age limits for the sake of the bands or music-savvy sophomores. Bar managers take their chances when they admit all ages. They deal with the occasional rowdy kids, earning less revenue on alcohol and looming threats from Alcoholic Beverage Control.
Tom Groneman, director of ABC in Topeka, said all-ages concerts at bars were risky. Though bars check the IDs of everyone who enters, of-age people still will buy alcohol for underage customers, he said.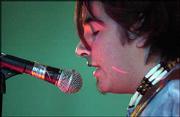 "Places that do allow underage people are inviting trouble," he said. "Invariably, that's where trouble comes, with hand-offs."
Making less money is an issue for Sullivan and Hayes, but it's not a deal-breaker.
"We can only sell so many Cokes," Hayes said, adding that income doesn't necessarily guide his decisions. "It's not all about the money. I don't think any of us are driving BMWs around."
Rake has played twice with The Shaggy Haired Outcasts at the Jackpot Saloon for 21-to-enter shows. The band also has played a 21-to-enter show at the Gaslight Tavern and an 18-and-up gig at the Bottleneck.
With connections, Rake said it wasn't hard to get gigs in Lawrence because venues will at least give bands a chance.
"If they like you, and if you bring a lot of people, they'll ask you to come back," he said.
The band members - two high schoolers and two Kansas University students - can't get their underage friends into the 21-to-enter shows.
"If they made shows all-ages," Rake said, "a lot more high school bands would be playing."
Kansas University journalism student Janette Crawford can be reached at 832-7154.
More like this story on Lawrence.com