The message is clear, yet hidden. Debatable yet convincing. His 6-foot-4, 290-pound frame only adds to the power in which he tells it.
With his mind, his mouth, his emotions and, most of all, his beliefs, Travis Watkins has stayed front-and-center in the spotlight, even though his Kansas University football playing days are done.
When Watkins speaks, it's rarely about the gridiron anymore. The former defensive tackle has found his new vehicle, poetry, in which he can let out his message to all who want to hear him -- and by the day, that audience gets bigger and bigger.
Take, for example, an excerpt from his poem, "Brothers" ...
"Bonehead brothers betray black brides/Breeding black bastard babies/Be brave, brothers/Be better, brothers"
Watkins, in one word, is deep. Every issue he discusses comes with his educated view on why it is the way it is, or why it isn't the way it should be, or what can be done to make it right.
Often, his message is in verse. He's anti-war and extremely pro-education, but will speak of cultural issues like African-American struggles in 21st-century America, or personal issues such as his white mother raising biracial children.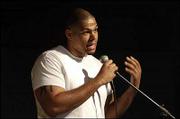 When asked about college football, he compares it, potentially, to neo-slavery, unless student-athletes make the most of how they are compensated and transform their free education into a degree.
Watkins, this month, will leave KU with two, thus dubbing himself a "slave master."
"Unfortunately, a lot of my contemporaries, especially African-Americans, have become slaves. They don't leave school with their degrees," Watkins said. "From an African-American standpoint, it's really sad to see. We're already struggling as a race. There's more black males my age in prison than in college."
'Very articulate'
The impact isn't just from his message, though -- it's how Watkins expresses it. While hosting the Student Union Activities' monthly poetry slam competition last week, Watkins took a break from the contest and offered one of his own poems, entitled "Your Village."
Having memorized every line, Watkins spoke quietly to start, but got more and more intense with his delivery, until he was screaming midway through. The packed room in the Kansas Union was silent -- sucked in and at full attention.
Among those in the crowd was David McMillan, another former KU defensive lineman now preparing for an NFL career with the Cleveland Browns. Like Watkins, McMillan is a veteran of the poetry slam and read some of his work last week.
In fact, it was McMillan who got Watkins started at the poetry slam competitions, after the two were discussing each other's work last year. Watkins then went on to win a large majority of the contests he entered -- so much so that he started hosting the event in January to give others a chance.
"The players know him as a very articulate and intelligent young man," KU coach Mark Mangino said. "He worked hard in academics. So it would not be a surprise to the team that he has done so well as a poet."
Man with big plans
Watkins no longer sees himself as a football player. He had no interest trying for the NFL, as his buddy McMillan did, and sees his time with the Jayhawks as a happy chapter in his life that's in the past.
Now, Watkins' dreams are even larger than his physique. He wants to get his masters and doctorate degree in Houston, where he'll move next month to teach third-graders in a Teach for America program. Down the road, he wants to be a school principal, and eventually he'd like to open his own private education academy.
"I want to go somewhere where I feel like I can affect the most change," Watkins said, "and that's education."
On the side, Watkins plans to publish his poetry -- by himself. He's in the process of starting a limited liability company, Layman Lyric Productions, where he'll sell his own work. Once his NCAA football eligibility expired, he started selling hand-made CDs of his spoken word for five dollars apiece. They sold out, forcing him to produce more.
His poetry recently won him two prestigious honors. His poem "Brothers" won him first place nationally at the 2005 College Language Assn.'s annual meetings in Athens, Ga. He also took second place at the Smokin' Word Slam Poetry competition in Kansas City, Mo., earlier this year.
"His voice is deliberate, definitive and fearless ... he wants to make waves," said Maryemma Graham, a KU English professor. "But most of all, he confirms what it means to be a generation born in the aftermath of civil rights, who must find their way to a new kind of social commitment in their own language."
So what is the message that he tries to express in his own language?
Whatever you make of it. The last thing Watkins expects is for everyone to agree with his beliefs. But more and more, people are putting personal opinion aside and critically analyzing the meanings of so many things when listening to his work.
It's exactly what Watkins was after.
"I'm not trying to get you to think like me," Watkins said. "I just want you to think."