DEADLINE EXTENDED! Due to overwhelming demand - and due to the poor timing of our orginal (finals week) deadline - we've extended the open call for KU logos indefinitely.
Greetings, **
And congratulations! You have been pre-approved, based on your artist rating, to be selected as a candidate eligible to submit a potential "logo" for consideration for use in a manner affiliated with:
- KU pamphlets,
- KU letterhead,
- KU fax cover sheets,
- KU sporting events uniforms,
- KU brand sorority girl foundation garments,
- and other miscellanea/memoribilia circa '10 related to KU.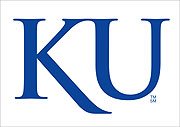 Based on recent reports, you may be aware that well-known imagemeisters LandreyMorrow (great name!) have already been commissioned for the sum of $89Gs and - after a year+ of creative vigor - have produced four final options for our beloved flagship state institution to choose from.
While impressive, we think these logos will be all the more heralded once they have some "competition" to put their superiority into context.
Friends, this is your calling.
Though our crony network of boorish boogans can hardly be expected to compete with LandreyMorrow, we've tailored a competition proportionate to our status to see whose "logo" stands proudest as the least inferior to the KU-sanctioned options.
Good luck!
-homies, lawrence.com
Here are the exciting details:

========[ REQUIREMENTS ]========
Booty: $88.90 (1/1000 of LandryMorrow's booty)
Deadline: 7a.m. Mon, 5-23 (1/100 - 1/1000 of the time alloted to LandreyMorrow, depending on when you get this email)
File size: at least 2"x2" 200dpi eps, tif, or jpg. (We've not privvy to LandryMorrow's file size, but we feel confident that they were much larger)
Mode of delivery:
- via email... homies [at] lawrence.com (for attachments less than 10MB)
- via appt.... 832-7270 (ask for 'Phil')
Note:
all submissions will be published in the may 24th lawrence.com deadwood edition and submitted to public scrutiny via the internets, wherein an online vote will determine the recipient of the booty.

========[ FINE PRINT ]========
** Send us your version of the new KU logo.
More like this story on Lawrence.com