For $100 or more, Kyle Billings can help you dress exactly like Darth Vader for tonight's premiere of the sixth and last "Star Wars" movie.
Or, if you prefer, you can go costumed as a Wookiee.
What Billings cannot do, however, is make you look like Harrison Ford. Only the Force can do that.
"I just had somebody five minutes ago who wanted to dress up for the premiere," said Billings, the owner of Fun and Games in downtown Lawrence. "He was looking for a Han Solo costume -- I couldn't help him. He'll try to piece something together."
Southwind 12 movie theater on South Iowa Street reported Tuesday it had sold out all 800 tickets for tonight's midnight showings of "Star Wars: Episode III: Revenge of the Sith." And by early Tuesday afternoon, the first fan was already camping out in anticipation of the movie.
In classic Lawrence fashion, Jack Musick was mixing politics with his fun, setting up a tent and making signs asserting that 9-11 was an "inside job" by the government.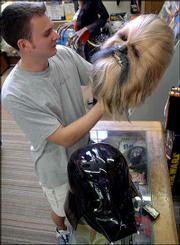 "I think 'Star Wars' is a good metaphor for America," Musick said. "A once-great republic marching into empire."
The original "Star Wars" trilogy was released from 1977 to 1983, telling how Luke Skywalker and his friends in the Rebel Alliance defeated Darth Vader and his evil Empire.
The new trilogy, which started in 1999 with "The Phantom Menace," tells the earlier story of how Skywalker's father, Anakin, grew up to become a Jedi, then succumbed to the temptations of the dark side of The Force.
Jason Ptaszek loves the movies. The 19-year-old Kansas University freshman won't go see the movie tonight -- he'll wait until this weekend, when he's back home in Minnesota, to go see "Star Wars" with his childhood friends.
"I'm going to make it a huge event," Ptaszek said.
He plans to watch the two most recent movies -- "The Phantom Menace" and "Attack of the Clones" -- before heading to the theater to see "Revenge of the Sith." After that, he'll watch the original trilogy, which take place chronologically after the newest movie.
"You think about The Force and stuff," he said, "and you're like: 'Wow. I wish I had that.'"
James Gunn, a KU professor emeritus in English, is a science fiction expert. He'll wait for "Revenge of the Sith" to come out on video.
"I don't mind missing the mobs," Gunn said.
'Fairy tale'
Strictly speaking, Gunn said, "Star Wars" isn't science fiction. "I think it's a fairy tale dressed up in science fiction furniture," he said.
But the movies did help make science fiction more acceptable -- even popular -- in popular culture.
"When I was growing up, science fiction films were on a smaller scale," Gunn said, "made quickly and cheaply, and they were the second feature, not the main feature."
Things have changed. Billings said he has received more than two dozen calls in the last week from "Star Wars" fans who want to see the movie dressed as a black-robed villain or green-skinned alien.
"If they're spending any money, they don't want it to look cheesy," Billings said. "But some people don't care -- they just want to have fun with it."
Even Musick, the political activist, isn't completely serious about the event.
"I'm here to raise awareness, certainly, but also to have fun," he said. "It'll be a good movie."
It'll also be good business. John Ratzlaff, manager at Southwind 12, expects the theater will be busy selling tickets throughout the weekend.
"It's expected," Ratzlaff said, "to be huge."