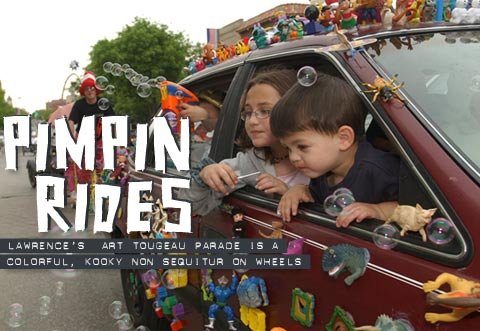 Pat Slimmer is an old hand at creating special vehicles for Lawrence's annual Art Tougeau Parade.
He has participated in the popular community event, which features all manner of creatively festooned transport - bicycles, wheelchairs, children's wagons and plenty of past-their-prime autos - four or five times before.
"One year we had a Subaru station wagon, and we made it into a clown car. We cut the roof off, painted it pink with polka dots and made the wheels wobble. It was great; it was a blast," says Slimmer, owner of Slimmer's Automotive, 2030 E. 23rd St., and a member of the parade committee that organizes the event.
"Then we had a toy car, a Ford Tempo that was completely covered in toys from fast-food restaurants - hundreds of them. When I pulled into elementary schools (to show off the car), it was a kid magnet."
But Slimmer might have topped himself with this year's entry in the 10th annual Art Tougeau Parade, which starts at noon Saturday downtown.
It's a flying saucer.
His creation is not based on a car or truck, but instead on a Cushman industrial cart from the early 1960s.
Past Event
Saturday, May 21, 2005, 10:30 a.m.
Lawrence Arts Center, 940 New Hampshire St., Lawrence
All ages / Free
"They would use these things to get around big factories, and it's got like an 8-horse-power engine. It's like a little one-person golf cart," Slimmer says.
"I took 180 feet of steel tubing, and I cut, bent and welded it into a frame that bolts on the Cushman. Then I took five 4-by-10 sheets of aluminum to skin or cover it. I had a friend make me a Plexiglass bubble for the top and ... you'll just have to see it."
The flying saucer's coolest - and most labor-intensive - feature, according to Slimmer, is a clamshell-style door that uses gas struts to slowly open, like an alien craft in a 1950s sci-fi flick.
Just don't expect the contraption to gain much in the way of altitude Saturday.
"It can fly, but only 15 miles an hour," Slimmer says.
Rolling non sequitur
The Art Tougeau Parade is a Lawrence rarity - a community happening that's neither a fund-raiser for a worthy cause nor a political statement.
It's done for the sheer joy of pursuing wackiness for its own sake.
Call it what you like - words like silly, inspired and hilarious come to mind.
The colorful, kooky parade is a non sequitur on wheels.
Which is why Margaret Morris loves helping to organize it, which she started doing two years ago.
"This is one of my favorite things EVER at the arts center. People are so ingenious and inventive, with this great sense of humor," says Morris, education program director for the Lawrence Arts Center, 940 N.H.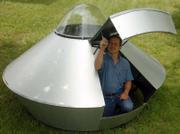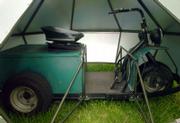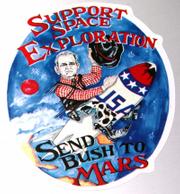 "The spirit of the whole thing is a community builder, a way to test your creative boundaries. It's a really funky, fun thing to watch."
It's made better, she says, by the fact that it's open to anyone who wants to enter a vehicle in the parade. It costs $15 to participate - or free for children who want to be a part of it, riding their decorated bicycles, wagons, skateboards, whatever.
"Our motto is, 'If it rides, bring it on,'" Morris says.
She means it.
In last year's parade, a group of college students cut the top off an unfortunate Volvo, lined it with plastic, filled the interior with water and drove it around in their bathing suits - a mobile swimming pool.
Better still - and in keeping with the nutty atmosphere of the event - a woman spectator reportedly jumped in for a quick dip.
"It's just about good humor and having fun with your neighbors, seeing how creative we can get," Morris says.
Form of folk art
Lawrence's Art Tougeau Parade isn't merely an anomaly, a case of a small group of possibly demented people slapping together outlandish vehicles with glitter and gallons of paint.
In fact, the parade fits firmly within the context of a grass-roots movement of outsider art known as art cars.
Cities across the country have festive events like Art Tougeau, drawing hundreds of entries and thousands of spectators.
The granddaddy of "art car" parades takes place each year as part of Houston's famed Orange Show, a huge celebration of the artistic expression of ordinary people.
"I've seen them (such parades) in a number of cities, and film footage of them, and I've always seen Lawrence's art-car parade," says Jon Keith Swindell, a professor of design in Kansas University's art department.
"I tend to think of art cars as the folk-art culture in America. It's a chance for people to be artistic, take license and do things that are rather elaborate."
A self-described "car nut" since childhood, Swindell says his art form is building vintage (and fully functioning) American hot rods from scavenged parts, a process he likens to fabricating metal sculptures.
As a final semester project, Swindell assigned 74 of his freshmen art-and-design majors to work in pairs to create pedal-powered vehicles made almost entirely out of salvaged junk (parts from bicycles, garden tractors, etc.).
Their wheeled projects have to be able to transport two people, with the added challenge of being able to perform one invented function that fits in with the vehicle's overall theme.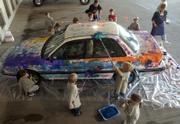 He assigned the project - "it's more of a gift than a final," he says - partly in hopes that a few of the vehicles might wind up in Saturday's Art Tougeau event.
"Some of them are, at least a dozen," Swindell says.
"My whole thing with the students is to get them into the community, to get their projects into public - and what better way to do that than to parade them?"
More like this story on Lawrence.com