George Lucas created "Star Wars" as a movie for kids. More than two decades after the release of the first film, those kids haven't exactly gotten too big for the universe.
"When 'Empire Strikes Back' came out in (1980), I went to the movie theater with my dad, and that was the first time when I was like, 'Wow! This is so cool!' And ever since then I was hooked," Krysti Spiess says.
The then 4-year-old began a lifelong love of the series, collecting toys, dressing up as Princess Leia for Halloween and playing video games.
But it was only a few months ago that her interest in the Star Wars galaxy strayed from the Light side of the Force.
"I didn't even know it existed," she says. "So as soon as I found out from my boyfriend that it existed, I thought it would be a really good idea."
It being the 501st Legion, a group of dedicated Star Wars fans who enjoy playing the role of "bad guys."
All you need for admittance is your very own Storm Trooper costume - or Darth Vader or Boba Fett. But far and away, the majority of members dress as the nameless and faceless grunts of the Imperial military.
Founded by Albin Johnson, the group covers the United States and 21 countries. So no matter where you may be, the Empire is always nearby.
The "bad guys" actually are not so terrible.
"We do charity work, fund raising, and then sometimes we'll do events for Lucas Films," Spiess, 28, says of the Legion.
Many of the members spend the holidays delivering toys for less-fortunate children, sometimes in affiliation with Toys for Tots, or stopping by hospitals to visit children's wards.
Spiess wears specially modified armor for those trips, also know as "fem trooper armor" for obvious reasons.
"I've never had any problems," she says. "(Because I'm) a woman and kids can easily recognize that, I think that a lot of times they're more comfortable."
However, for Lucas Films-sanctioned events, every trooper must have a regulation armor outfit.
Spiess, known by the Imperial designate TK-1393, joined the Legion officially in November of 2004.
Even though 28 might seem a bit old to still be this involved in a "kids" movie, Spiess doesn't have any plans to turn in her blaster rifle.
"I don't really have a limit, like, 'Well when I'm 35, then I'm going to stop,'" she says. "Long as I can still fit in the armor."
Movie
Star Wars: Episode III - Revenge of the Sith
***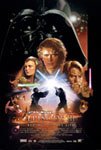 The sixth and final installment in the Star Wars series is the darkest yet, and the only with a PG-13 rating. Though everyone knows Anakin Skywalker's development into Darth Vader is the focus of the movie, the story of how he gets there is about as dramatic as the series gets.
More like this story on Lawrence.com