When Karl Ramberg is jamming in his front room on his electric guitar, he's not thinking about notes on a page. He's just feeling the music, working out his moods in melodies.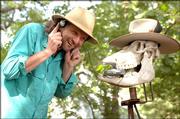 After about 10 minutes of improv, he heads to his drawing studio, plays back what he just recorded and riffs off the tune with charcoal, pastels and pencil.
"To watch me, it's almost like dancing," says Ramberg, a full-time stone mason and part-time sculptor, musician, painter, drawer and actor who lives in an east Lawrence home devoted almost entirely to art making.
Despite the freewheeling solo nature of his creative process, the core of Ramberg's work is about reaching out to viewers and listeners through a certain amount of structure.
About 20 years ago, Ramberg thought of a way to make a musical score understandable to a nonmusician. He started with words - "pattern," "freedom," "compose" - assigning a letter to each of the 12 musical tones. When the words were "played," they became musical phrases.
Ramberg holed up in his mother's Lawrence basement, covering composition paper with bar after bar of notated words. When he finished a page, he'd tape it to the next and soldier on. He worked until he'd created a scroll 30 feet long.
"I'd roll it across the entire floor so I could see the structure," he says.
On a complementary scroll, Ramberg wrote out the corresponding words, creating a translation of sorts. The piece, composed for orchestra, concludes with the word "peace."
On view
What: "Keeping Score," music and art by Karl Ramberg When: Through May 27, with an opening reception at 7:30 p.m. today Where: Lawrence Arts Center, 940 N.H. Hours: 9 a.m.-5 p.m. Monday-Saturday. Frequently open in evenings.
Still, Ramberg wasn't exactly content when he jotted down the final note. What would he do with it now?
He devised a plan to drive to the Aspen Music Festival, where Witold Lutoslawski was appearing, and sneak into the Polish composer's tent with his experimental score under his arm. But his car broke down in Hays, and he blew his budget getting it fixed.
"I retreated back to Lawrence, defeated," he recalls. "Then it (the score) sat in my drawer for 20 years."
Life as an artist
Ramberg still liked his idea, though, and he composed a similar "word song" for five cellos and took it with him a few years ago to a festival in Wisconsin. On the final night, during a wrap-up party where the musicians had been drinking, he saw an opening: five cellists poised in front of empty music stands.
He slid his score in front of the musicians and asked them to humor him.
"When they played it, it was like the idea was validated," recalls Ramberg, 51. "This was a real idea."
To make it real for more people, Ramberg knew he'd have to incorporate a visual element. So he booked a show at the Lawrence Arts Center and began doing drawings and paintings that incorporate musical notation. Quarter notes, rests and clef symbols curl around abstract shapes, portraits and color washes.
He sums up the exhibition this way: "This is what my drawings sound like. This is what my music looks like."
In his Friday Night Series, Ramberg will share both the drawings inspired by his musical improv sessions and the music itself. Whimsical holders, such as a boat floating in a stone bowl carved by Ramberg, will house portable CD players so gallerygoers can listen to the music as they look at the drawing.
At tonight's opening reception, local musicians - including Ramberg's mother, Joanne, on piano - will play some of Ramberg's pieces. Ric Averill will be among the musicians.
"In his own way, Karl is kind of a renaissance guy," says Averill, a Lawrence playwright, director and composer. "He believes in the complete artist. His commitment to life as an artist is commendable."
'All mixed together'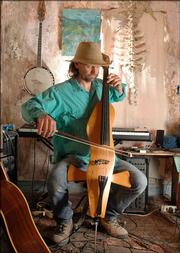 Indeed, Ramberg has followed his muse in diverse directions. He studied piano at Kansas University but dropped out (several times, he says). He volunteered as Elden Tefft's assistant when the Lawrence sculptor was still teaching at KU, learning to carve stone without ever taking a class. He taught himself to compose music by checking out books at the library. Now, the only places in his two-story home not cluttered with instruments, easels, canvases and art supplies are a corner of the kitchen and a tiny upstairs loft with a mattress on the floor.
Composer and Kansas University music professor Charlie Hoag isn't familiar with Ramberg's work but thinks the concept is interesting.
"(Composer) John Cage says that anything can be music; any sound can be music," Hoag says. "The arts are all mixed together now, and that's something that's really very interesting to me.
"Anything that widens the scope of a traditional musician is, sooner or later, going to bear fruit in that person's career."
For Ramberg, the payoff has been the joy of creating spontaneous yet thoughtful works of art.
"It's just been so much fun," he says.
More like this story on Lawrence.com