When Peter Thompson pulled into Lawrence in 1965, he thought his new position as a painting and drawing instructor at Kansas University would be temporary - a mere pit stop in his academic career.
Thompson, then 25, had no idea the pit stop eventually would turn into an influential, 40-year career.
"I came out here to go to a job in Albuquerque, N.M., which wasn't going to be open until the following fall semester. A friend of mine was running the (art) program at the University of New Mexico, and I was going out there to run the freshman introductory drawing program," says Thompson, now 65.
"I had been offered that job, for considerably more money than the University of Kansas paid. This was kind of, you know, 'We're driving through Kansas anyway on the way to New Mexico.'"
Thompson thought he'd be in Lawrence, at the most, for one year.
What happened?
"I loved it here. I called my friend in New Mexico about six months into it and said I wouldn't be coming," he says.
Instead, Thompson stayed at KU, where he went on to teach thousands of students, as well as take administrative posts of increasing responsibility and influence crossing several artistic disciplines.
After starting out as a painting instructor, he later served as chair of the art department, associate dean of the School of Fine Arts and finally dean of that school from 1986 to 1999.
Thompson retired this month from KU as a professor of art, teaching life drawing.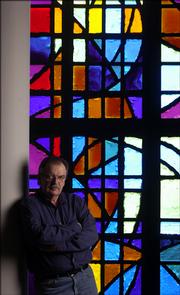 Dozens of colleagues, former students, family and friends honored him at a May 12 reception in the lobby of the Lied Center, a building that he helped bring to fruition.
Added visibility and respect
As Thompson leaves KU behind - starting a retirement that will include a new career in digital photography and imaging - those who know him are reflecting on his contributions to legions of students and the university.
"Peter is a visionary, a highly acclaimed artist and a people person who makes friends easily," says Steven Hedden, current dean of KU's School of Fine Arts. "He provided extraordinary leadership as dean and earlier as chair of the art department. He also is a very effective teacher. A number of alumni have communicated to me how the 'lessons from Peter' from 20, 30 or more years ago still serve as artistic touchstones for them."
Proof of Thompson's leadership, Hedden says, is evident in several highly visible buildings on campus.
He was central to the realization of the Lied Center, the Bales Organ Recital Hall, the library/rehearsal wing addition to Murphy Hall for the department of music and dance, and the Art and Design Building that placed both departments together in a large addition to the Old Fowler Shops, according to Hedden.
Peter Thompson
Age: 65
Education: Bachelor's degree in illustration, 1963, Rhode Island School of Design, Providence, R.I.; master's in painting, 1965, Yale University School of Art, New Haven, Conn.
Positions at Kansas University: Instructor, later professor of art, teaching painting and life drawing; chair of art department, 1968 to 1975; associate dean, School of Fine Arts, 1975 to 1980; dean of School of Fine Arts, 1986 to 1999.
Accomplishments: Played central role in realization of Lied Center for the Performing Arts, Bales Organ Recital Hall, library/rehearsal wing addition to Murphy Hall for the Department of Music and Dance and current Art and Design Building.
Personal: Married to Judith Thompson, writer; two children, Sarah Fulkerson, 39, Wellesley, Mass., and Rachel Meiring, 36, Kansas City, Mo.; four granddaughters.
Retirement plans: Continue to pursue new career in digital photography and imaging.
Among Thompson's other accomplishments, Hedden says, are the faculty members he recruited and maintained during his service as chairman and dean.
"The work by these faculty members and their students have secured additional visibility and respect for the arts at KU - at national and international levels," Hedden says.
Judith McCrea, current chairwoman of the art department, has known Thompson since she applied for a visiting position at KU in 1990.
"The pleasure in working with Peter is that he understands what the issues are in visual arts, and he understands what constitutes quality in the field and what is needed to maintain quality in visual art at a major university," McCrea says.
"He also has an immense love for classical music, and I think that the addition to the music building (Murphy Hall) and the addition to the Lied Center (Bales Organ Recital Hall) prove that he went outside of his own discipline to strongly support music and the performing arts."
Or, to put it another way: "I think that he brought the School of Fine Arts into the modern world. Imagine the campus without those buildings."
Influence lasted decades
An important part of Thompson's role as dean was helping to raise money to fund capital campaigns for projects such as the Lied Center.
"You have to learn how to say 'million' without stuttering. I always thought the idea of giving money was a $100 check, a $50 check, and all the sudden you have to say, 'We need a million dollars,'" Thompson says.
One of the people he turned to was Richard Hollander Jr. of Kansas City, Mo., who serves as administrator of the Gertrude and Richard Hollander Family Foundation.
The foundation has donated about $500,000 in awards to KU students in the School of Fine Arts and major contributions to various projects since the early 1990s.
"The great thing about Peter is that even when he was dean, he was extremely conversant with the individual students in the art department. He really bridged the gap between being an artist himself and an academic, as well as an administrator," says Hollander, a design consultant and 1969 graduate of the Kansas City Art Institute.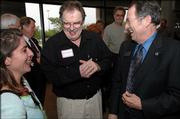 Thompson made a deep impression on generations of students. In some cases, his influence on them lasted decades.
"Drawing and painting was my love, and Peter was the best teacher of my life. I don't think that would be an exaggeration," says Terry Evans, 60, a professional photographer in Chicago.
Evans, a native of Kansas City, Mo., earned a bachelor's degree with a double major in drawing and painting, and commercial art from KU in 1968.
"Peter imbued me with a way of working that has served me for photography; it has served me for everything, even in my own values about life and caring about the world," she says.
Another longtime admirer is Rick Mitchell, gallery director at the Lawrence Arts Center, 940 N.H.
Mitchell, 55, earned a bachelor's degree in painting from KU in 1971.
"Peter was just the same then as he is now. He was competent, friendly, but as a teacher, rigorous and disciplined, and he had high standards that he set for students," he says.
"Peter's one of my heroes. I've known him for a long time. He's a gentleman and a fine artist."
More like this story on Lawrence.com