Le Mans auto race officials have approved his design for a new museum. Now all Kansas University professor Dennis Sander needs to do is raise the $200 million to build it.
Sander, who teaches architecture, said he would turn to car lovers and car-making companies for the money needed to construct his dream - a new museum in Le Mans, France, site of the 24-hour race known around the world as the pinnacle of sports car racing.
"For everything (the Le Mans event) has given over the years to the auto industry, it's a good thing for the auto industry to give back," Sander said.
The 24-hour marathon race draws 350,000 to 400,000 people each June for a thrilling duel of Ferraris, Porsches, Maseratis and other top-performance machines.
Sander first formally pitched the idea of an expanded museum - there currently is only a small one - to the race's governing board in July 2004.
He said board members indicated their approval, contingent upon him coming up with the funding. The board opted to keep the project quiet until now, Sander said, to prepare for the publicity the project is expected to receive.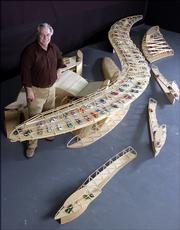 Board members also approved his design, a 540,000-square-foot facility that includes two IMAX theaters, eight smaller theaters and space for Le Mans collectibles.
The centerpiece of the museum would be a serpentine-shaped gallery that angles from 64 to 134 feet off the ground and could hold 120 cars for display.
The structure's plans also include space for racing teams to rent for presentations or fund-raisers and a basement for auto restoration, painting and engine work.
"Dennis has always had these wild, flashy designs," said Sean Hendrix, a recent KU graduate who helped on the project. "It's very eye-catching."
Sander and Wojciech Lesnikowski, another architecture professor, said they both were surprised the Le Mans governing board approved the project at first glance last summer.
"They told him it was one of the most extraordinary projects they'd seen, and they'd love to build it," said Lesnikowski, who traveled with Sander to France. "The reception he had was rather triumphant."
Now, it's just a matter of fund raising.
Sander, who admits a lifelong love for auto racing, said he thought the project would take between $160 million and $200 million to build. Potential donors include automakers such as Bentley, Ferrari and Jaguar, celebrity car lovers such as David Letterman and Jay Leno, and team owners such as Mario Andretti and Don Panoz.
He said he might seek professional fund-raising help in the process, which he figured could take six to eight years.
"I'm afraid I'm a little too small," he said. "I'm not a professional developer."
Sander said he looked forward to the day he could walk through the building himself.
"I've had a love for this particular race, and a love for racing," he said.
More like this story on Lawrence.com