Lydia Long can't wait to be an international ambassador for her hometown of Lawrence.
Lydia, a home-schooled seventh-grader, will join about 65 other members of the Lawrence Children's Choir next week on a tour to Germany, including two concerts in Eutin, one of Lawrence's sister cities.
"I hope we leave the best impression we can," Lydia said. "Maybe we'll be invited back, or maybe they'll come here."
The group leaves Saturday and returns June 7. Eight concerts are scheduled in venues ranging from elementary schools to old cathedrals.
The itinerary includes five nights in Eutin and four nights in Berlin. Plenty of sightseeing will accompany the singing.
This is the first international tour for the Children's Choir since 2003, when the chorus traveled to England.
The choir has gained respect as one of the top children's choirs in the country since its founding in 1991. It now includes members in fifth through ninth grades who are selected through an audition process.
This is the first time the choir has focused a tour around the sister city program.
"I think those sister city connections are just fabulous," said Janeal Krehbiel, artistic director. "To take the gift of music to our sister cities is just wonderful."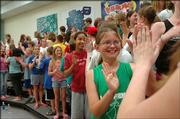 Lawrence also is a sister city to Hiratsuka, Japan. Krehbiel said she'd like to plan a trip there in the future.
Thirteen high school students spending more than a month in Eutin will meet up with the choir.
Phyllis Farrar, who is involved in the sister cities program, said she was glad the choir was involved for the first time.
"This trip wouldn't be possible without our sister city relationship," Farrar said. "It's going to be great fun to see friends and make more friends."
The choir's repertoire for the trip includes a mix of American and German songs. The song list includes "Shenandoah," "Home on the Range," "Ave Maria," two German folk songs and "Ride the Chariot," an African-American spiritual.
"We always try to have a wide variety of pieces," Krehbiel said, "but this year I chose everything with Germany in mind."
Kelly Karasek, who just finished her ninth-grade year at Southwest Junior High School, said she found the upcoming trip "really exciting."
Audio clips of two songs by the LCC Tour Choir
Jim-Along Josie
Two German Folk Songs
"I've never been out of the country," she said. "We have to make sure we preserve our voices, but we want to have fun. It'll be nonstop."
The trip also will be the first time out of the United States for Michael Bruce, who just finished his eighth-grade year at Central Junior High School.
"It'll be a big new adventure for me," he said. "It's a pleasure to sing, because you learn so much. Just saying you are in LCC is such an honor."
More like this story on Lawrence.com