As a child growing up in Prairie Village, Eric Darnell woke at 5:30 a.m. on Saturday mornings even though the cartoons didn't start for another half hour. He sat with a bowl of Cheerios watching "Farm Report," eagerly awaiting the animated toons.
Now his childhood love of cartoons has led to a career as an animation director.
"I never considered for a minute that this was something I could do as a living," Darnell says. "I was dense, but it never struck me that people did that sort of thing."
As a teenager, he made movies in his sandbox with his friend who had an 8mm camera. He drew little flip books in the margins of his textbooks at school.
It wasn't until after attending high school at Shawnee Mission East and leaving his native Kansas for college at the University of Colorado that Darnell realized he could become a part of film animation. After giving up journalism to study film, he eventually undertook his feature directorial debut with "Antz" in 1998.
Now, Darnell is bringing four years of hard work on "Madagascar" to life. He says the DreamWorks project is a combination of exaggerated and caricatured motion, which he hopes will distinguish it from the many other animated flicks in the marketplace.
The story is a common one: "the castaway" taking humans into the wild without their creature comforts and watching them survive. But, instead of Gilligan, Mary Ann, Skipper and the Professor, the castaways in this film are four New York City zoo animals who are more like neurotic New Yorkers.
"The irony is we take these animals who think they're people and put them in the place where they are supposed to be. Technically, and for them, it's the worst possible thing," says Darnell during a recent press tour that brought him back to Kansas City.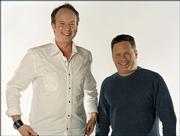 Using New York as a central character in the film was important to Darnell and co-director Tom McGrath.
"It's the ultimate urban center, and right in the middle of these tall, tall buildings is central park and the zoo," he says. "They didn't use this in the film, but animals can say things like, "I've got 500 square feet off of 5th Avenue. It doesn't get any better than this. Why would I go anywhere else?"
Darnell fell in love with his characters: the hypochondriac giraffe who in the original script was afraid of heights, the hippo with a big heart, the zebra who wants to see the world, and the lion who enjoys being on display. Darnell wanted to make sure the cast would embody the characteristics of the zoo animals.
"You have to listen to their voices from other films they've done - because you have to be careful - an actor will sound very different when their voice is disembodied from their performance," according to Darnell.
Movie
Madagascar
** 1/2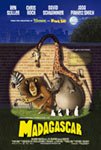 Pampered animals at the Central Park Zoo get thrown back into the wild in this silly, good-natured tale that is a significant improvement over DreamWorks' previous animated effort, "Shark Tale." Despite the inevitable celebrity voices and multiple pop culture references, the movie revels in the fact it's still a character comedy.
In the case of Jada Pinkett Smith, who plays Gloria the hippo, it isn't a natural combination. "She's this petite beautiful woman, but when you listen to her voice she's very strong, powerful, confident and sweet - all the things we needed Gloria to be in this film to wrangle in the other characters."
Melman the hypochondriac giraffe (voiced by David Schwimmer) is content living in the Central Park Zoo where all of his medical concerns can be met with quality care. Darnell was afraid that a hypochondriac giraffe might be a downer to the story.
"A hypochondriac can be depressing. ... We needed someone who could do that and be lovable, so we went to David Schwimmer."
Aside from developing complex, interesting characters that happen to be animated, a compelling story is also important, Darnell says. The theme of "Madagascar" is one that most people can identify with: the power of friendship even halfway around the world.
"It's not where you are in this world but who you're with," he says. "That's the most important thing."
More like this story on Lawrence.com