They don't chase ghosts or share snacks with a talking Great Dane, but they do drive the most distinctive van since the Mystery Machine.
They are David and John Barrett - aka Team B.
Since May 1, the twin brothers have been motoring around the country in the Waka Wagon. With its psychedelic paint job of musical notes and logos, the vehicle has proven a unique way of spreading the word about Lawrence's Wakarusa Music and Camping Festival.
"We have people ask us all the time if Scooby-Doo is somewhere in there," John Barrett says. "We don't solve mysteries; we don't fight crime. But we are a team and we have a good time."
The Waka Wagon has already been as far east as Kentucky and as far west as California. David Barrett estimates it's logged almost 5,000 miles in less than a month.
"Any time we pull into a really small town to get gas or something, people just stare at us like we're crazy," David says. "People aren't unfriendly by any means; they're just not used to seeing this very loud van all the sudden sitting in the middle of their town."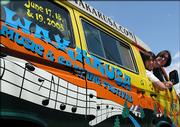 John adds, "If we notice someone looking, we'll say, 'Hey, what do you think of the van?' It ranges from, 'Yeah it's great,' to thumbs-up signs and peace sings. Little kids love it. We were in Overland Park a few days ago and we got flagged down by a couple of kids who thought we were the ice-cream truck."
What separates the Waka Wagon from a more commonplace promotional device is that the vehicle is crossing the country and setting up camp at rival music festivals - a practice that seems to be the only one of its kind within the music industry.
"We think that the Waka Wagon represents our creativity, ingenuity and 'non-corporateness,'" says Wakarusa fest co-founder Brett Mosiman. "It is like our own little Oscar Mayer hot dog mobile. It travels throughout the Midwest and brings attention to Wakarusa, Lawrence and Kansas - and those are great things."
Get in the van
The inspiration for the Waka Wagon came from Jeff Morrow, one of four co-organizers of the festival. The four-day, five-stage event will feature more than 60 bands and is scheduled to run June 17-21 at Clinton Lake Park.
Photo Gallery: Waka Wagon
"Jeff came up with the idea of doing a promotional tool where we drove this vehicle around," David explains. "At first we said college campuses and things like that, but then we said, 'Why don't we take it to other festivals as well and see how it's received?'"
Morrow purchased the 1986 Volkswagen Westfalia on eBay and turned it over to a local artist for a custom paint job.
The 23-year-old twins were recruited initially to alternate excursion duties with Morrow (who generally takes the van to more traditional outlets like radio stations and college campuses) but ended up with the lion's share of the touring.
"Team B is first and foremost passionate; they really care about what we are trying to accomplish," Mosiman says.
"They were 'spiritual' advisers last year, and we deeply value their opinion on numerous topics. They act as our compass in areas we feel we are not as patched into."
Lawrence ambassadors
So far, the Waka Wagon experiment has gone according to plan.
"In a festival atmosphere, when we wake up and open the door, there are people there within 30 seconds asking questions," says David, a Kansas University sophomore majoring in sociology.
He explains that most folks he meets along the route have heard of Lawrence - or at least the Jayhawks.
"But a lot of people are curious, too," he says. "'What's the town like? Should we get there early? Are there hotels?' I tell them it's the standard great college town, but I also mention specific places like Free State (Brewing Co.) or the Eldridge Hotel. Any way we can work the local businesses into it, because we want Wakarusa to be a part of Lawrence, not just some festival out at the lake."
In addition to indoctrinating those unfamiliar with the event, the Barretts are in charge of a small army of street teamers. They meet the recruits, hook them up with flyers and oversee their efforts to publicize the affair. (They've mailed almost 400,000 flyers, and the event has already sold tickets in 50 states and five foreign countries.)
"Outside of talking to the musicians and meeting all the great people, the experience as a whole has just been really good," says John, a political science in international relations major who spends time on the road learning Arabic.
He cites giving the members of legendary band Parliament-Funkadelic a ride to their cabin during a recent concert as his personal highlight.
"They really dug the van," he says.
Groovy ride
The Waka Wagon isn't quite as garish on the inside as its exterior might suggest. The brothers point out the traditional upholstery remains unmodified, which gives it a "retro '70s/early '80s vibe."
"It's like a miniature studio apartment," David says.
Past Event
Saturday, June 18, 2005, noon to 3 a.m.
Clinton State Park, Clinton Lake, Lawrence
All ages / $79 - $119
The Carbondale, Ill., natives share most of the duties, with John usually concentrating on the vendors and David wowing the locales.
"Dave is a good navigator, and he's really good at talking to people," John says. "We're both fairly social guys, but he can really pull people up to the van."
The twins say they've had no real trouble along the way from policemen or any other public officials. And they haven't been obliged to solve any mysteries or unmask costumed villains. But if they did have to compare themselves to Scooby-Doo's gang:
"I would probably be Shaggy," John says, "and Dave might be more of a Fred."
Tour Schedule
May 1: Tulsa, Okla. May 3: Kansas City, Mo. May 5: St. Louis May 6: Louisville, Ky. May 7: Salem, Mo. May 8: Rolla, Mo. May 9-10: Topeka, Manhattan, Wichita, Hutchinson, Hays May 11: Denver May 12: Boulder, Colo. May 13: Ft. Collins, Colo. May 14: Denver May 16: San Francisco May 17: Redding, Calif. May 20: Fayetteville, Ark. May 23: Columbia and Jefferson City, Mo. May 24: St. Louis May 26: Springfield, Decatur, Ill. May 27: Champaign, Bloomington and Peoria, Ill. May 28-29: Peoria, Ill. May 30: Davenport, Iowa City and Coralville, Iowa May 31: Des Moines, Iowa, Omaha, Neb. June 1: Lincoln and Omaha, Neb. June 4-5: Western Kansas June 6-8: Kansas City, Mo. June 9-11: Manchester, Tenn. June 13-15: Kansas City, Mo.
More like this story on Lawrence.com