Behold "Jurassic Jesus."
The 500-pound sculpture is an example of Alan Detrich's latest passion: crafting religious icons from dinosaur bones, precious metals and tiny transistor parts.
The work represents an interesting turn in the colorful life of Detrich, a 57-year-old Great Bend native who made his living - and a name for himself - for 20 years as a professional fossil hunter.
In fact, Detrich made millions of dollars by selling some of his major dinosaur finds to museums and private collectors around the world.
But that's all behind him now.
Detrich, who says he retired from dinosaur hunting last year, moved to Lawrence in January to study jewelry making, sculpture and paleontology at Kansas University.
He's not at KU to earn any degrees. He already has a master's in sculpture from Fort Hays State University (1972) and a Master of Fine Arts in sculpture (1974) from Wichita State University.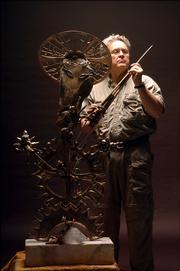 And his move here certainly has nothing to do with money. He's independently wealthy, though he doesn't reveal the exact figures of any of his transactions in the fossil trade.
No, Detrich - who says he always has been a spiritual man - has come to KU primarily to consult with professors of art and design to refine his artistic craft.
His goal is to create honest-to-goodness religious icons out of prehistoric fossils (the teeth, horns and claws of dinosaurs) melded with gold, silver, platinum, jade, gems and even bits of clocks and other machinery.
This, Detrich says, will be his legacy - a form of devotional artwork intended to capture the attention of not only his fellow humans, but God as well.
"I was trained to be an artist. My sculpture (reconstructed fossils) is in the natural history museums, now I want to make some sculpture that goes in the Vatican," he says.
Detrich hasn't publicly shown his work yet, but he's hoping that will happen.
"I'm waiting ... for a church to give me a call," he says. "That's where it ought to go."
'Bling bling' and bones
But how does Detrich - a sort of Indiana Jones of the fossil-finder world - go from digging for dinosaurs to sculpting art designed to glorify Jesus?
"It all happened on a trip to Munich and Berlin last October. I was going to the gem-and-mineral show, I got on an airplane and I found a book, 'Twelve Ordinary Men' by John MacArthur about the (biblical) disciples. It was a long plane ride to Munich, but I was definitely affected by that book," he recalls.
Alan Detrich
Age: 57 Former occupation: Professional dinosaur-fossil hunter, owner of Detrich Fossil Co., Great Bend Address: Best Western, 2309 Iowa Education: Bachelor's in education, Fort Hays State University, 1970; master's in sculpture, Fort Hays State University, 1972; Master of Fine Arts in sculpture, Wichita State University, 1974 Fun fact: Named to People Weekly magazine's list of 50 top bachelors in its July 2, 2001, issue; list also included golfer Tiger Woods and actors Matt Damon and Ben Affleck
"These were 12 ordinary people, just like we are ordinary people. There wasn't anything really special about them. So I thought, 'You know, I think I could make a difference, because I'm just an ordinary person, too.'"
There's a second part to his epiphany.
"Then, when I was in Munich, I saw a poster. It was (of) religious icons - 10,000-year-old Jordanian sculpture - and I said, 'You know, I gotta go see that.' So I got on another plane in the middle of the gem-and-mineral show and flew to Berlin," Detrich says.
"While I was there, I got to see these (ceramic) religious icons, and I said, 'You know, I think I can do better than that.'"
Except he would do the Jordanians one better.
He would build HIS religious icons out of something much rarer and more valuable than mere clay: dinosaur fossils.
"I absolutely promise you that no one has ever done this. They've never, ever made religious icons out of dinosaur bones," Detrich says.
He's further upping the ante by throwing in other costly materials.
"I'm making them out of 'bling bling,' basically. Precious metals - gold, silver, platinum. I've bought a hundred pieces of jade that are coming from China. I'm going to be using ivory, crystals, diamonds, bronze ... and fossils, especially fossils," he says.
Twenty pounds of gold
Yes, one might ask, but what's the POINT?
Isn't it possible that some (and maybe many) people will view Detrich's unusual work and come to the same conclusion: "I don't get it."
That doesn't bother the artist.
"It's like with good poetry, good literature. If they don't get it, they just don't get it, and there's nothing you can do about it," he says.
"Everybody isn't going to get it. That's OK. Not everybody gets Jesus; not everybody gets God. But at least they might look, because it has dinosaur bones and gold in it. I tried to assemble materials that are, in our culture, precious."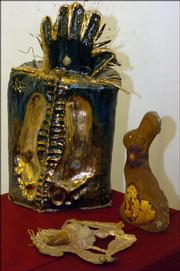 This semester alone, Detrich cast more than 20 pounds of gold into the shapes of various objects, such as a crown of thorns, to incorporate into his sculptures.
Jon Havener, for one, is impressed.
Detrich has been consulting with Havener, a professor of design at KU, as he crafts his religious icons.
"For jewelry, you think of ounces (of gold). He's talking pounds. Lin (Stanionis, associate professor of design) teaches casting, and, you know, we've all sort of had our go with precious metals, but not on this scale," Havener says.
"You don't have many opportunities to do that in your career. It's kind of like doing bronze casting, but in gold."
Detrich displays a fine artistic expertise, according to Havener.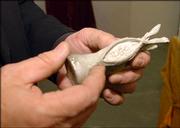 "He knows his materials, metallurgy; he knows how to sculpt and create forms. He's got all that down," he says.
And KU design students working at the foundry in the Old Fowler Shops have enjoyed their contact with Detrich. That goes for Havener, too.
"He's a good addition. He's a character," he says.
What's next - bolo ties?
At least one of Detrich's fellow fossil lovers is bemused by his abrupt turn from dinosaur digs to divine sculpture.
Larry Martin, professor and senior curator of KU's Natural History Museum & Biodiversity Center, met Detrich five or six years ago.
"I know him because he collects fossils, and occasionally he shows them to me," Martin says.
Detrich sat in on Martin's course in avian osteology - the study of bird bones - this past semester.
"I think Alan's basically a good guy. He was a good fossil hunter. He's kind of a wheeler dealer and promoter-type person," Martin says.
But the professor hasn't yet had the chance to view Detrich's latest sculptural work.
"I'd kind of like to see it. It sounds pretty neat. He was telling me he had a bunch of scrap dinosaur bones he was going to do that with," Martin says.
Is he concerned about Detrich's use of fossils to make artwork?
"On the whole, we're not encouraging people to convert dinosaur materials into jewelry. If you were to ask me if it were harmful, I would say no," Martin says.
"But that would be the main reason for not wanting to do it. You probably don't want to encourage people to collect dinosaur skeletons with the idea that they're going to turn them into bolo ties."
Detrich says he considers Martin "a genius" and looks upon him as a kind of mentor.
That's fine with the professor.
"I get a kick out of having Alan around, just because he does make life more interesting," Martin says. "And you never know, he might be a big help to us some day."
More like this story on Lawrence.com